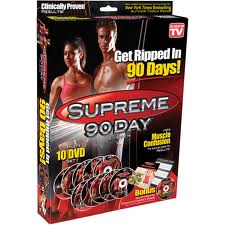 We enjoyed hearing how everyone is (or isn't) tackling their New Year's resolutions in 2013! We would also like to congratulate the winner of our giveaway, the Supreme 90-Day workout DVD set:
Brenda Bringman
Brenda, you will soon receive your new workout program and be able to confidently move forward with your strength/fitness goals for 2013. Stick with your strength training and watch your body completely transform. With the next 90 days to kick things off, there should be no stopping you! We hope you have those dumbbells on standby!
We will be contacting you with the details, Brenda, and getting that set to you right away!
Congrats again, & be sure to take before PICS. We'd love to see your results!