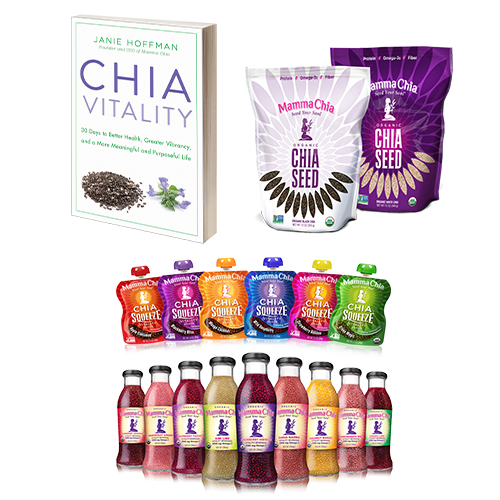 Mamma Chia, a conscious and sustainable company with a mission to share the magic of chia through delicious, high quality, organic chia-based foods and beverages, is unveiling several highly anticipated new products this spring, including two new Chia Squeeze Vitality Snack flavors – Mango Coconut and Wild Raspberry.  They were kind enough to send an awesome package of goodies for the team to review.
From Anitra:

I recently tried several of the Mamma Chia Vitality Beverages, and was pleasantly surprised! This is definitely not your typical beverage. It's not thin and watery, but instead is thick yet refreshing, with a pleasant jelly-like texture from the chia seeds. Upon first glance, I was surprised at how the seeds were perfectly (and beautifully) suspended throughout the bottle and had not settled down at the bottom like I was expecting. They come in a wide variety of flavors, but my favorite to date is the Coconut Mango (but all the ones I have tried are amazing!) They are all organic, lightly sweetened with agave nectar, and are packed with an entire day's worth of Omega-3s (2,500 milligrams), 25% of your daily fiber requirement, 4 grams of complete protein, and 95 milligrams of calcium, plus loads of antioxidants and minerals. All this, and only 120 calories a bottle! I found them to be quite filling (probably from all that fiber) and are the perfect mid-afternoon pick-me-up! Take a walk on the wild side and give them a try – you won't be disappointed!
From Joan:
I tried Mamma Chia, Wild Raspberry Chia Squeeze vitality snack for the first time. I love the packaging. Its in a 3.5 oz squeeze package with a good size opening for drinking. It reminded me of gelatin, only in a more liquid form. I liked the over all flavor. I did not like that the seeds were not a little more blended into the drink because the seeds kept getting stuck in my teeth. I drank it at room temperature, I may have like it even more if it had been refrigerated. I love the fact that it has so many nutrients, especially the 1200mg of Omega-3s. It is definitely "Great for the body"! I think it is definitely a must try!
From Becca:
I received the Coconut Mango flavor of Chia Squeeze. It had a refreshing tropical flavor which even my picky eater kids enjoyed! I love the health benefits of chia seeds, and while I'm not someone who usually uses pouches, I sure can appreciate the convenience of these tasty pouches. They would be a great source of carbs prior to or during an intense weight training session, and make a great snack that I feel great about giving to my five kiddos.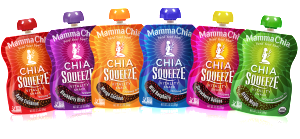 From Trish:
On the way out the door for my girls' track meet I remembered the Berry Bliss squeeze pouch sitting in the fridge and grabbed it.  If you've been to a track meet before then you know it is an all day affair and this was the perfect size snack to slip into my bag for later that day.  Having tried Mamma's vitality drink in the past, I knew I'd be in for a treat as well as get in some good nutrients – the pouch contained 4 grams of fiber, 2 grams of protein and a fair amount of Omega-3 at 70 calories.   Not bad.  In case you're not familiar with the benefits of chia seeds, they are tiny little seeds that are a fiber power house! They are rich in antioxidants and the plant-based omega-3 fatty acid, ALA (alpha-linoleic acid) which is great for the heart and brain.
As an on-the-go snack, these pouches are great!  I enjoyed mine chilled and it was super refreshing and very flavorful .  I usually train early in the morning before the sun is up and need to keep my pre-workout fairly light. The squeeze would likely be a good option as a pre-workout as well and would also be great to pack in the kiddos lunch boxes.
The giveaway: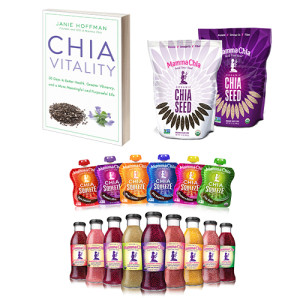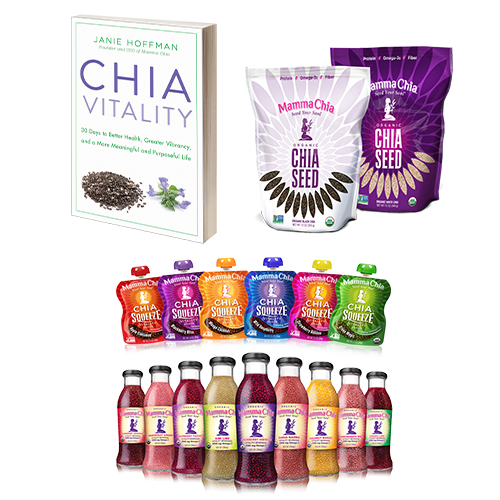 The fab folks at Mamma Chia have offered one EM2WL reader this SWEET package filled with goodies.  The lucky winner will receive:
One full bag

each

of Mamma Chia's NEW black and white chia seeds
One week's supply of Mamma Chia products – 7 Chia Squeezes (varied flavors) and 7 beverage vouchers
Chia Vitality –  Authored by Janie Hoffman, Mamma Chia founder and chief executive officer
Total retail value: $75
To enter:  Vets, let's hear how EM2WL has impacted your life. Have you been inspired to get your lift on and squash fears of becoming a she-hulk?   Maybe you have been set free from VLCD prison?  Newbies tell us how you hope your life will change following an EM2WL lifestyle. Still on the fence with EM2WL? Tell us what's holding you back. That's it!  Random winner will be selected on 5/22 at 12pm EST.