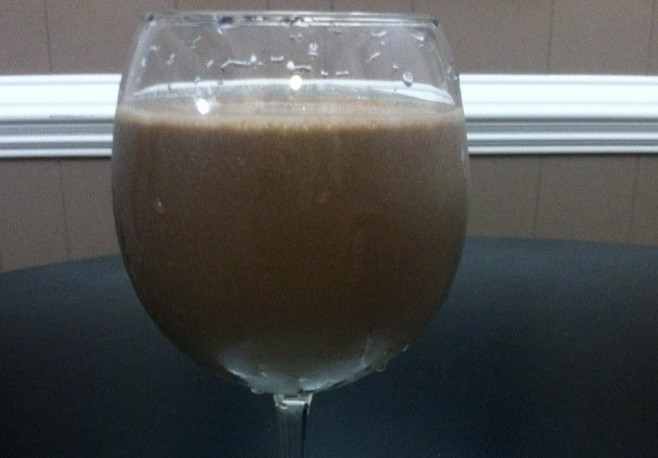 Looking for a tasty way to increase your cals? Try a Protein Peanut Butter Cup Smoothie!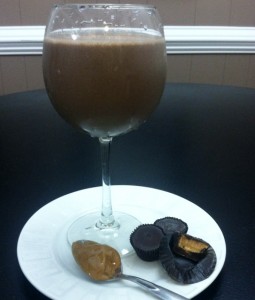 One of the first questions we usually get from someone who has decided to increase calorie intake after years of eating 1200 cals, is "how in the world can  I eat that much?! " We even admit to having asked such a valid question ourselves, once upon a time (although you'll be hard pressed to hear us say it now!).
A suggestion that you'll often hear shouted in the forums in unison is "PEANUT BUTTER!!"
Yes, we love our healthy fats here at EM2WL and look to them as the go-to calorie "uppers" when first beginning.  This goes especially for the tried and true, PB.   If you're not a PB fan, feel free to try out your fave nut butter in it's place.  Here we took a basic smoothie recipe from Allrecipes, and spruced it up a bit with the addition of protein powder (in place of the instant breakfast mix), and further "chocolafied" it with the addition of a couple of teaspoons of Hershey's Special Dark Cocoa powder.  The result, is a super filling Protein Peanut Butter Cup Smoothie, perfect for getting in the good stuff on the go.
While no actual PB cups went into the blender…our lips are sealed as to whether an actual (*cough*Trader Joes Dark Chocolate*cough*) PB cup was eaten during the brainstorming of this concoction….
Peanut Butter Cup Smoothie

Print recipe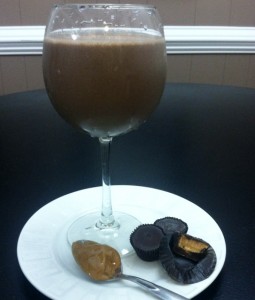 A basic peanut butter and chocolate protein smoothie get sweetened w/banana, and an intense richness from added cocoa powder and vanilla extract. A yummy way to get in some good stuff on the go..
Ingredients
1 cup milk (can use soy/almond/etc)
2-4 tablespoons protein powder (1/2 to full scoop depending on brand)
1 tablespoon all natural peanut butter
1 Large Banana (frozen for best texture)
Optional
2-3 teaspoons cocoa powder (used Hershey's Special dark)
1 teaspoon Sucanat
1/2 teaspoon vanilla extract (inner baker won't let me leave it out)
Directions
Combine all ingredients in blender for 30 seconds or until well blended.
Note
All ingredients can be modified to suit most basic allergies: feel free experiment with almond milk/butter, or swap out the banana and Sucanat for ice and no calorie sweetener (i.e. Truvia, xylitol, etc ) for a version that will still hit the spot for diabetics/carb sensitive.
Nutrient info (calculated w/skim milk and 3/4 scoop BodyTech Whey protein powder):
Calories: 410 , Total Fat 9g, Sat. Fat 2g, Chol. 11 mg, Sodium 346mg, Potassium 972mg, Total Carb 52g, Fiber 7g, Sugar 32g, Protein 34g