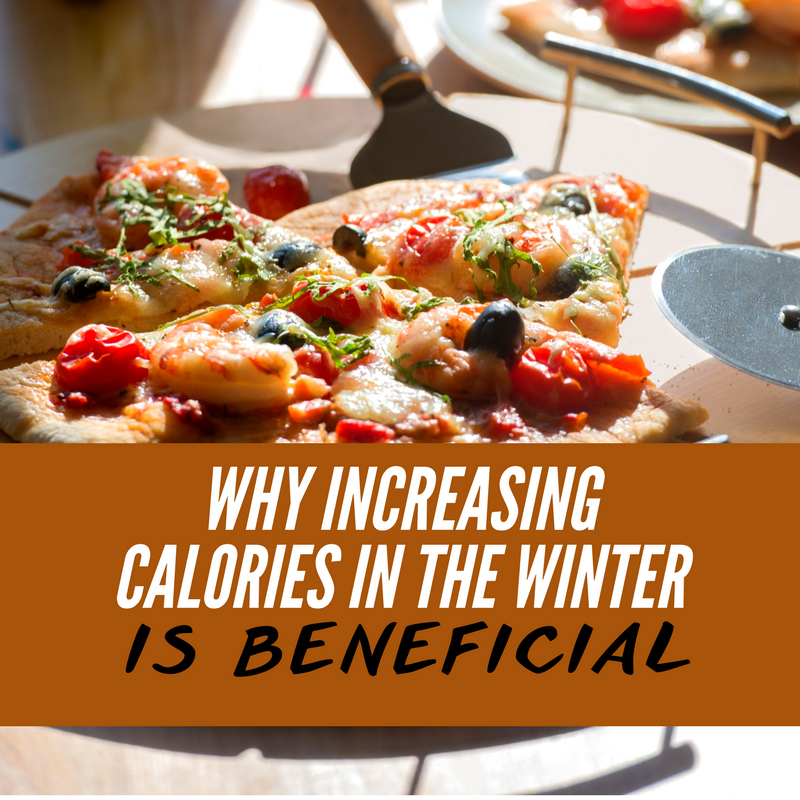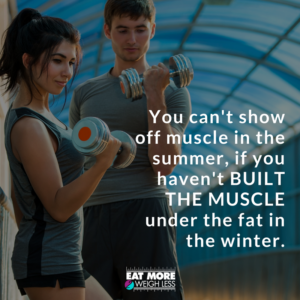 Increasing calories is an important aspect of building muscle. As we discussed in a previous blog post, you cannot build muscle and lose fat at the same time. So there should be a point in your year where the focus is on building muscle, and winter is usually a great time to do just that.
Increasing Calories in the Winter
There are two major reasons for increasing calories in the winter – maintenance eating and building muscle.  For most people, there is a natural tendency to "fall off" dieting in the Fall and Winter.  Because the urge to increasing calories is normal during these colder months, it makes sense to utilize this for muscle building.  By doing so, this sets the stage for success in the Spring/Summer when fat loss is desired. In addition to heeding natural tendencies, taking an extended diet break during this period gives your metabolism a chance to heal/re-boot from cut phases.
(Remember: Over time your metabolism adjusts to whatever calorie level you're eating consistently. So if you are in a cut for too long, that caloric level becomes your new maintenance.)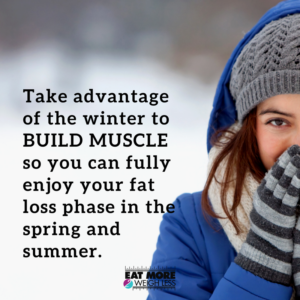 A winter reset (eating at maintenance) actually helps your metabolism to heal, giving your body a good amount of time to "remember" where TDEE is before another cut is attempted. During this time, many in the fam will choose to eat in surplus of their TDEE (Bulk). Bulking gives your body extra calories, which helps to build more muscle. Whether you eat at maintenance or bulk during the winter, either will help achieve greater fat loss in the spring. Too many dieters think that restricting calories for many many months will help get to goal faster. The truth is, without taking those breaks – you often feel as if you look worse because of the muscle loss from non-stop dieting. Just remember, you can't show off muscle in the summer, if you haven't built the muscle under the fat in the winter (or at some point throughout the year!).
It's no secret that muscle building phases can cause some gains on the scale and "puffiness" on the body (as muscle builds underneath the fat layers, pushing it outward).  In many parts of the world, winter tends to be the time where layers of clothing are worn. Those heavier sweaters, hoodies, sweatpants, blanket scarves, etc provide the perfect opportunity to stylishly "hide" areas you'd rather not flaunt, while you get down to business (building muscle).  By fully embracing this as a time of year for muscle building, you can fully enjoy your fat loss phase in the spring and summer (with the benefit of increased metabolism!).
Be sure to take advantage of the colder months to rest, recharge and take a break from a reduction in calories. But do so with purpose (not simply "I'll start over in Spring!"). Tracking calories and paying attention to your macros are still very important during this time. Be sure to enjoy yourself, but remember that maintaining now allows for a successful cut later.
SaveSave
SaveSave