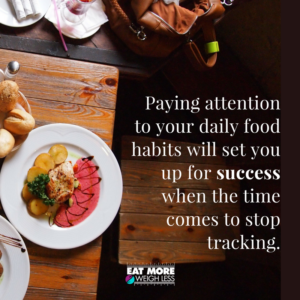 A food tracker can be a powerful weight loss tool. When used correctly, it can give you a ton of data about your eating patterns and caloric intakes. For many, tracking food can mean the difference between eating enough calories and eating the right kinds of calories. However, the ultimate goal for the majority of #crushers is to be able to live and eat without the aid of a food tracker.
Intuitive eating vs. Food tracker
The goal to stop tracking comes with an important caveat. You have to actually track your food for a period of time in order to stop tracking later. So for many, this means understanding that if your goal is to stop using a food tracker, then you must be able to perfect intuitive eating, by knowing how your food choices line up each day.
By tracking, this allows you to see each day where your calorie intake actually hits, and where your macros fall in. This allows you to make notes of what you need to eat daily, and how your choices affect your macros for each meal. Paying attention to your daily food habits will set you up for success when the time comes to stop tracking. Your understanding of how to hit that protein goal becomes apparent after you track consistently.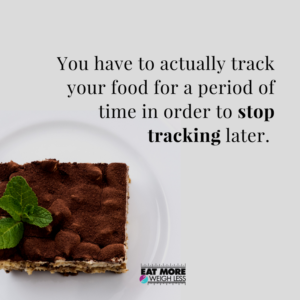 Another good reason for using a food tracker is seeing if there are patterns in your moods and hunger cues. By tracking your moods daily using the notes section of your diary, you will be able to see if there are patterns to certain issues. Things like skipping breakfast causes you to binge eat later in the day. Or a pattern in eating a certain food brings on the bloat or gives you headaches/migraines. These cues can tell you a lot about your eating habits and how to troubleshoot them long after you stop tracking.
Finally, tracking your food allows you to be self aware. It keeps you accountable to your daily required calories, and hitting those macros. Both are necessary for fat loss. It also gives you the stepping stones to make these changes in your food a habit. Habits which need to be solid before you begin intuitive eating.
The goal for everyone is to eventually stop tracking food. But take the steps now to track so your foundation is solid in the future.