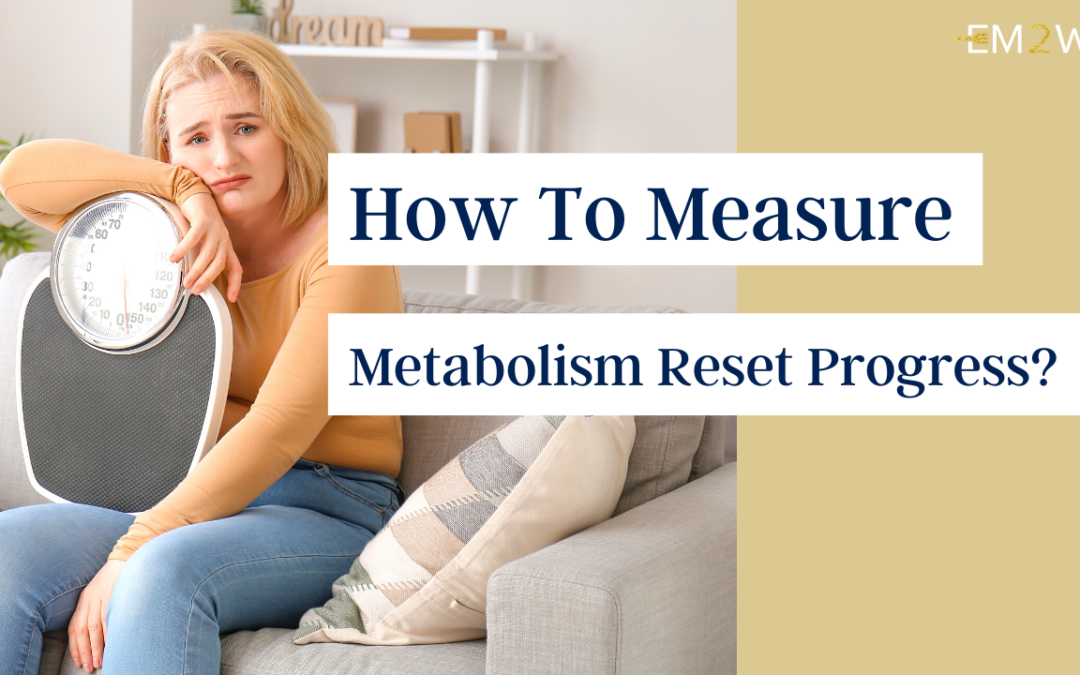 When it comes to how you feel and look, it's important not to ignore what's going on inside in attempts to "fix" the outside. A metabolism reset is a process of nourishing and repairing your body from within in order to reap the exterior benefits. But how can you measure your progress as you go through the reset phase?
While you may not always see outward changes right away, there are certain cues that indicate the progress of your metabolism reset. Let's take a look at five ways you can measure your metabolism reset progress.
Muscle Regained 
If you are going through a metabolism reset, chances are that you have already lost muscle due to dieting or other lifestyle factors. During the reset, you should expect to see some of that muscle regained, however, this may not be visible without a DEXA (or similar) scan. Depending on the length of your reset and your starting body fat percentage, your body composition may undergo some visible changes as well.
Weight Stabilization
Weight gain (if any) has stopped, and you're eating at your "goal" calorie level.  If you have been steadily gaining weight prior to or during the reset, then tracking whether or not this has stopped can be an effective way to measure progress. Even though the scale isn't the only indicator of progress, it can still provide useful information about changes in your body composition over time and whether or not the reset is working for you.
Improvement in Hair/Skin/Nails
During a metabolism reset, it is common for hair skin nail (HSN) health to improve drastically as micro- and macronutrients are made available for repair and growth processes within the body. This can also occur when hormone levels become balanced and as gut health improves from consuming nutrient-dense foods that support digestive system functioning properly and efficiently.
Appetite/Energy Has Regulated
If you were experiencing ravenous hunger and cravings before starting the program and/or feelings of fatigue throughout the day then tracking how these symptoms have changed since beginning can be another great way to measure progress! Generally speaking if cravings have decreased/stabilized and energy levels have increased then this could again indicate improved hormonal balance from proper nourishment!
Strength Gains
Lastly, strength gains are another great way to measure metabolisms reset progress! Our muscles respond best when we show them love through movement, exercise, and…FOOD — so if you've been consistently working out throughout this phase (and eating enough food!) strength gains should start going through the roof! This could look like an increase in weight lifted or reps completed but either way, it's a sure sign that things are moving in the right direction. Tracking changes in strength over time will help give insight into how well muscles are recovering after workouts due to adequate nutrient uptake which again points towards efficient metabolic functioning!
Adjust your Focus
Measuring progress during a metabolic "reboot" isn't about focusing solely on external factors – like weight loss – but rather looking internally at how our bodies are responding to proper nourishment after years of being deprived from essential nutrients needed for optimal functioning.  By understanding these five key indicators we can assess progress along our journeys more accurately while avoiding disappointment over false expectations the diet industry has been shoving down our throats for decades!
Ultimately, if we focus on what's happening inside then eventually those outside changes will follow – even if they do take time before becoming visible! So don't forget – RESET IS NOT A FAT LOSS PHASE – prioritize your healing by addressing "what lies beneath" first & celebrate ANY and ALL small victories (in the areas listed above) along this amazing journey!
Good luck! : )