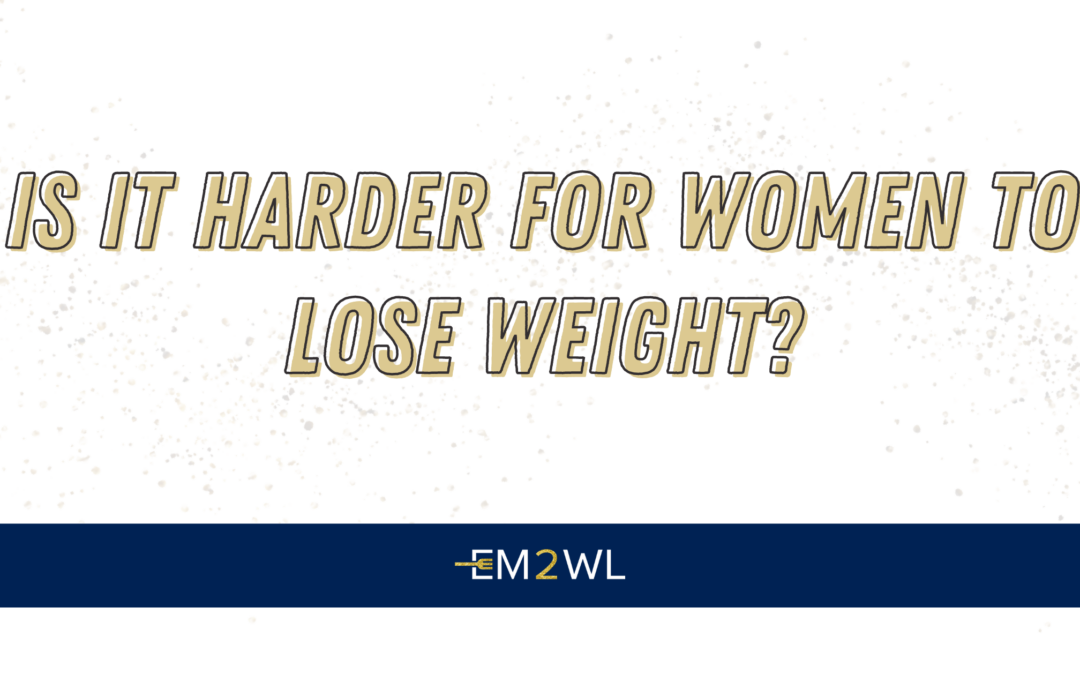 Is It Harder For Women To Lose Weight Than Men?… The age-old question.
Yes. It's not your imagination.
The female fat loss struggle is REAL.
If you're anything like me, you've had at least one experience of spending an inordinate amount of time recruiting a male accountability partner ("hey, let's do this diet together…please…please") – only to end up frustrated when he finally agrees and seems to get ALL the results.
Sure, you start off strong and have WAY more willpower, but eventually, you hit a plateau, and he…doesn't. Of course, this is an oversimplification of gender (not all men lose fat super easily), but men definitely have a few advantages over us.
This podcast discusses the five reasons why fat loss is harder for women.
Here's a sneak peek into today's episode…
> [1:30] 5 Reasons Why It's Harder For Women To Lose Weight
> [2:12] #1 Focus on the Scale
> [5:25] #2 Hormones
> [9:29] #3 Muscle
> [12:36] #4 Diet Preferences
> [17:17] #5 Patience
Click Here to Listen To This Week's Podcast
About The Diet Rebel Podcast
If you are a woman who hates having to choose between loving your body and changing it, this podcast is for you. In this podcast, we talk about everything from loving your body exactly as it is now to becoming the fittest, leanest, and tonest you've ever been – no matter HOW old you are, how many tiny humans you've birthed, or how many times you've lost & regained the same (15 or 50!) lbs! Seriously, you don't want to miss it! So grab a snack, preferably protein based (lol), sit back and enjoy the Diet Rebel podcast. Brought to you by Eat More 2 Weigh Less @ eatmore2weighless.com
To support The Diet Rebel Podcast with Kiki Smith, make sure to follow, download, and share the podcast with your family and friends! Enjoy!⁠

Links
Download Your FREE Quick Start Guide
Sign Up For The FREE Women's Fat Loss Webinar
SUBSCRIBE To Our Youtube Channel