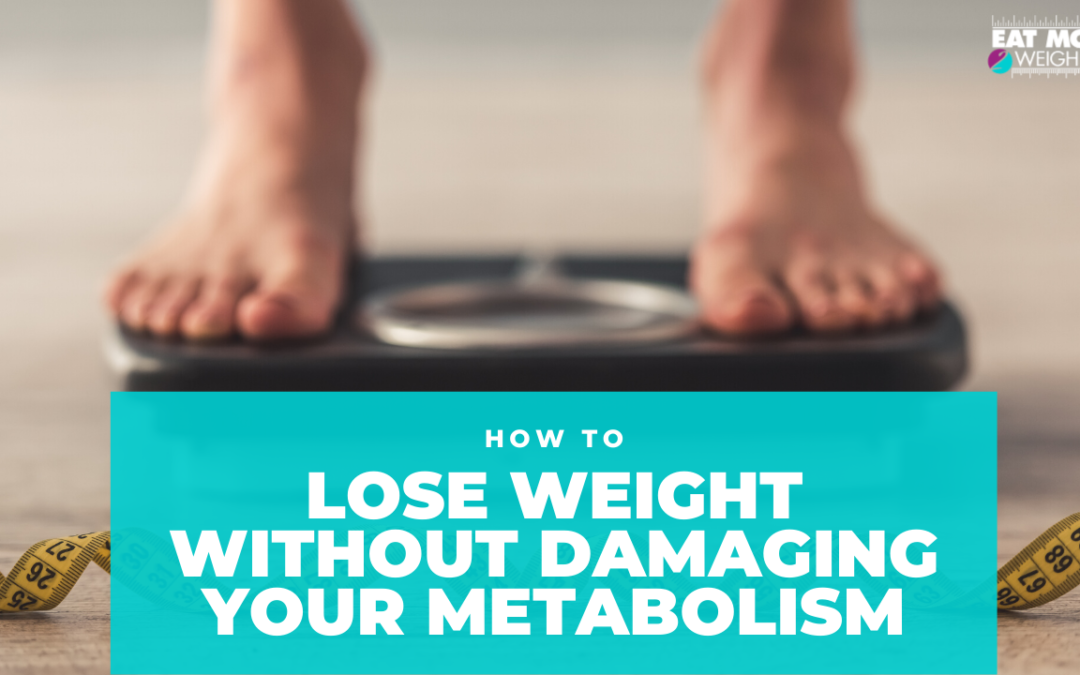 You want to lose weight, but not at the expense of metabolic damage.  Such a simple request that, unfortunately, most weight loss methods just can't seem to deliver on.
Here are three main things to focus on when attempting to lose weight that will help maintain a healthy metabolism:
#1 Make sure you're eating enough!
Under eating is the number one reason for metabolic slowdown from dieting.  Eating too little leads to your body adapting to the lower calorie intake (read: the "deficit" becomes "maintenance") and ultimately slowing down your metabolism. This is counterproductive when it comes to weight loss.
The key is to keep your metabolic rate as high as possible by eating enough food, with a sufficient macronutrient intake for your goals.
Key Takeaway – Be sure to eat enough calories (consisting of high amounts of protein and fiber) to allow for fat loss but also maintenance of muscle mass.
#2 Lift Weights.
Muscle mass is a critical part of your metabolism, so you'll wanna preserve every ounce of it.  Resistance training will help you to maintain as much muscle mass as possible while losing weight. When you focus your exercise efforts on building (or at least maintaining) muscle, your metabolic rate will remain high, and your body will know exactly what to do with the calories you consume.
It's important to note that just because your training involves a dumbbell, that doesn't necessarily mean you're building muscle. Group classes or training with super high reps is often cardio-based and not conducive to muscle building.
Key Takeaway – Lift, but do so with the intent to build or maintain muscle. Stick with weights that you can do 8-12 reps of in any particular exercise, but that fatigue you by the end of each set.  Muscle = metabolism! 
#3 Give Yourself Enough Time.
Don't tackle weight loss with a tight timeframe! You will likely end up putting your body in a position where you may end up damaging your metabolism. Plan for diet breaks every 4 or 8 weeks to take time off from eating less and go back to consuming maintenance level calories.
Key Takeaway – If your fat loss is happening too fast and seems too good to be true, it probably is. Weight loss of one pound per week (for women) and two pounds per week (for men) is a good gauge to use. 
The best kind of fat loss is permanent fat loss! By using the guidance above, you will be on your way to losing as little muscle mass as possible, all while keeping your metabolism burning and healthy and losing fat as well!