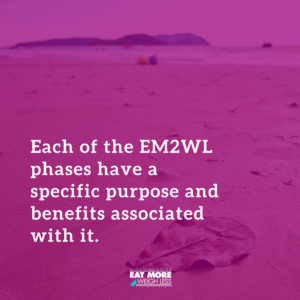 When it comes to changing your dieting mindset and embracing the EM2WL lifestyle, the first step is recognizing that there are several different phases to this journey – just as there are phases in other areas of your life.  Each phase has it's specific purpose and unique benefits, but your success for each one depends solely on your ability to own that phase and fully embrace living it.
Because EM2WL is a lifestyle, you'll likely find that certain times of your year will lend itself more readily to specific phases over the others. Jumping from phase to phase as suits your life is normal, and even encouraged, however you can only truly be in one phase at a time.  The compounding of the phases is where the magic happens, so your success in one phase is actually dependent on the attention given to previous phases.  Trying to be in multiple phases at one time will only make progress take longer, so resist the urge to attempt multitasking your phases.
When mapped out for your specific goals, the phases will bring clarity to your end result.  And because each person is unique, your plan will be remarkably different than someone else. Find out which phase you belong in currently.
The 5 Phases of EM2WL
Reset
This phase is for healing your metabolism and is generally the starting point for most dieters. Here you will learn what your TDEE is, and you will work your caloric intake up to that number. Reset is all about relearning how to eat and how to love yourself. You will increase your calories up slowly and listen to your body. Focus on hunger cues, feelings and what changes your body makes with proper nutrition. Consistency with your intake and your macros will become your focus once you have reached TDEE. Because this is a healing and rebuilding phase, there should be no focus on fat loss, and ditching the scale is highly recommended.
Maintenance
Maintenance is about learning to maintain your current progress. This means eating at your TDEE level to keep the metabolism burning and still consistently hitting your macros. Usually this phase takes place between cut phases (diet break) or when your season of life needs a break. Things like holidays and vacations are a perfect time to be in a maintenance phase. Time spent in this phase can be as little as 1 week, or as long as you like! There should be no expectations of physical changes happening during this phase.
Cut
A Cut phase is when a reduction in calories occur and a focus on fat loss takes place. This does not mean instant changes will happen! A lot of what happens in this phase depend solely on what your previous phase was and how successful you were in it. This means that success in a cut may not show until your third or fourth cut down the line. Macros need to be consistently hit and a deficit of no more than 15% from TDEE will enable this phase to have a greater success. A cut phase should not be any longer than 6-8 weeks, and should always be followed up by at least a 1-2 week maintenance phase.
Chill
Chill means "CHILL". This phase is for when life throws lemons at you and you need to make lemonade. A chill phase is beneficial for when life has gotten too hectic. Maybe you need to scale back on tracking, or you just want to practice eating intuitively and mindfully. If you are under major stress in other aspects of your life, then a chill phase allows you to focus your energy where it needs to be. This also gives you an opportunity to live your life without tracking and just "live." This phase can be as long or as short as you like, and you can jump to any other phase once completed. Do not mistake this phase for a "free for all" eating phase, but there should be zero guilt for what you CHOOSE to eat during this time.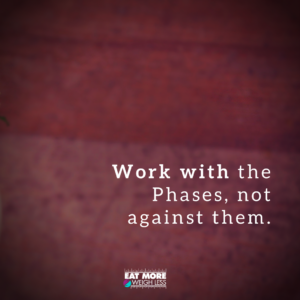 Bulk
This phase is purposefully eating above your TDEE level so that muscles can grow and build. This phase is specifically to add more muscle mass and should be done with a controlled increase in calories. A huge benefit to this phase is the increase in your strength and the focus should be on the barbell, not the tape measure! Bulking is typically encouraged in the colder months, where you can hide under bulkier clothing, and prepare for a cut phase in the spring.
Work with the Phases, not against them
Regardless of when you start living your EM2WL life, you will learn to appreciate the phases as you encounter them. Each one has specific food related, mind related, and body related goals with them. But the only way the phases work with you is if you work with the phases. Commit yourself wholeheartedly to the phase you are in and master the skills needed for it. Be willing to learn and challenge yourself in each one and know that over time, you will find yourself craving to be in a certain phase at certain points in your life. In time, your journey successes will compound in so many ways it will be impossible not to miss them.
Lean in to the process by starting right now. What phase are you in?
(Excerpt from 1 of 11 lessons on the EM2WL Phases inside CTDM Workshop)
SaveSaveSaveSave