Seven years ago my youngest daughter, Olivia, came into the world.  With a 4-year old toddler and a newborn to care for, getting to the gym became too challenging and I seemed to miss more sessions than I would make each week.  After discovering a few home workouts, I bought some dumbbells and a step to get started. With no dedicated space, I stored everything behind a couch in our family room, but my home gym was born!
Finding time to get to the gym to train isn't always easy especially when dealing with day-to-day responsibilities like work and family.  Additionally, when you take into account travel to and from the gym, the crowds and waiting for equipment once there, not to mention hygienic concerns, it makes you wonder why everyone isn't setting up a home gym.
Having equipment at home offers a gym alternative, allowing you to train effectively and efficiently as your schedule permits.  To help you get started, I put together a list of equipment that I consider essential along with some nice-to-haves that you can add over time.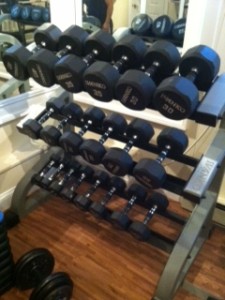 Dumbbells  You'll want to have both a lighter set and a heavier set to start. The lighter set will be good for overhead exercises like shoulder press.  The heavier set of dumbbells will be used for lower body exercises such as squats, deadlifts and lunges. Since you may quickly progress beyond two sets of dumbbells, another option is to buy adjustable dumbbells, which can range from 5 to more than 100 pounds, eliminating the need for multiple dumbbells.
Resistance bands  Resistance bands offer resistance throughout both the concentric and eccentric movement of an exercise, unlike free weights, when performing some exercises.  While you won't be able to perform a max lift with bands, they are great for getting a pump by keeping constant tension on the muscle throughout each rep.  Additionally, they are a great option to take with you when traveling.  Consider buying two or three bands of varying resistance.
Bench or step  While you can perform chest presses, flys and such on the floor instead of a bench, you'll want a bench/step for other exercises such as Bulgarian split squats, box squats, leg presses, dips, seated presses, etc. When selecting a bench, look for a flat bench offering an incline option to add even more variety to your sessions.
The above list is what I'd consider the essentials for your home gym, especially if you are a beginner.  If you are more advanced, move the Olympic bar & plates up to the must have list as well.  In addition to the many bodyweight exercises that can be performed at home, you'll add several dozen more with these options. If you are cost conscious be sure to check out Craigslist.org where you'll find many of these items.  A used dumbbell works just as well as a new one!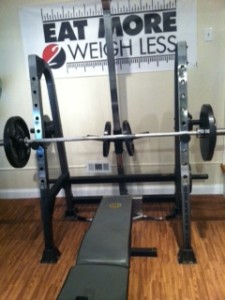 As my passion for training grew, I slowly added more equipment to my training arsenal and even managed to wrangle a dedicated room for my gym, which I lovingly referred to as a sardine can because it was so tiny.  Just recently, I convinced my husband to give up half of our garage space and that is where I train currently.  When you are ready to add to your training tool box, below is a list of other equipment you might consider, in my order of  importance.
Olympic barbell & plates  If you're short on space, opt for a 5 or 6 foot length rather than the traditional 7 foot version. All of my bars are 6 foot or smaller.  As for plates, start off with a set of 100-150 pounds of varying weights, adding additional plates as you progress. This equipment can also be easily stored under a bed, if needed.
Squat/press or power/half rack  As your lifts increase you'll have trouble getting the barbell safely into position for squats and presses.  A rack will assist with this, offering safety options if you train alone.  If you won't have a dedicated space, consider a squat stand that can be put away when not in use.
Pull up bar  Power and half racks will likely offer a pull up option.  However, if you don't purchase a rack, consider an over-the-door pull up option. You can use your bands for assistance with the pull up bar until you are able to do them on your own or perform negatives by standing on your bench or a chair.
Kettlebells  Again, look to Craigslist as these can be very pricey.  Many exercises performed with kettlebells can also be performed with dumbbells.  However, exercises, such as the swing, an excellent exercise for the posterior chain, may be better suited for kettlebells.
Suspension Trainer  Suspension training systems are super versatile and are a great option for home and for travel.  They offer exercises for all major muscle groups and rely on your own body weight for resistance.  You will not only develop strength with a suspension trainer, but can improve core stability, flexibility and balance as well.
Lastly, consider buying items that will provide additional comfort to your session such as weight training gloves, barbell pads, yoga mat, etc.
Whether, like me, getting to the gym isn't an option for you or you simply prefer the comfort of your own home, the items above will take you pretty far. Always consider the amount of space you'll have to work with, not only for the equipment, but for you to perform the exercises.  Start small and add additional equipment over time.  With the money you'll save on your membership, you will pay for your home gym several times over.  However, if you prefer the gym vibe, cool, but still consider having a few options at home for when it's raining, it's pouring…or life just isn't cooperating.
Now that my girls are a bit older I could eek out some time for the gym if I really wanted to, but I have everything I need right down stairs.  To be further inspired, check out our Pinterest board, showcasing home gyms, and our shop.  Already have a home gym? What equipment is at the top of your must-have list? Drop us a note and link to a pic in the comments.  We'd love to see your set up!