In order to plan for success in the fall, dieters need to focus on preparing for changes than happen after summer.  Fall is usually a time when school is back in session and colder weather emerges. Holiday seasons also begin to race into high gear. There are two reasons why you tend to fail in the fall: You don't have a plan, or your plan is not realistic. Regardless, planning is even more vital in the colder months than it ever was during the warmer ones.
Seasonal habits need changing
During the summer months, many dieters believe that it is easier to plan to stick to your eating habits and workout routines. Hot weather can drive gym goers inside for air conditioning, and swimming and water sports become more prominent. We also tend to wear less clothing in the heat, which motivates us to look and feel our best. Fresh produce is in abundance, making it very easy to find healthy options to eat. So with the heat, we tend to eat better and are more physically active than any other season.
Somehow, the minute the colder weather starts to set in, our habits also seem to freeze and a stale mate begins with our routines. Generally, routines should be easy to keep. But many underestimate just how busy they tend to be come September and there is no consideration for the mental space that takes up.
If you fail to plan, you plan to fail
It is important that you have plans in place for when the weather changes. School begins and kids tend to take up all our time, with extra curriculars and events. If there is no plan in place for how to deal with the change in schedule, then failure is inevitable. We know these things come every fall, so plan ahead of time for how you will fit in your workouts and gym time. Colder weather tends to make us want to hide indoors and not go out. So a plan needs to be in place for how you will handle poor weather conditions. This might mean having some gym equipment at home for the days you don't want to travel. If you are a home gym user, then proper scheduling of your time needs to be considered.
Fall often brings a change in food options and eating habits. Fall and Winter are "Sweets and Junk" season. Football and Hockey season brings out all of the tailgate type foods, that are high fat and high sugar. This makes way for holiday season, which – for many – is a general "free for all" in eating options. There are less fresh produce options in the colder weather, which can make it difficult to have healthier options.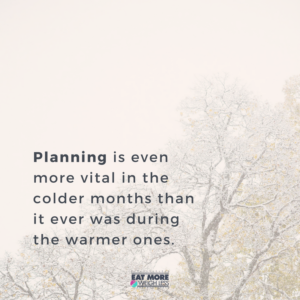 This is not something to beat yourself up over, attempt to "white knuckle" through, or throw your hands up in defeat (until the New Year) – instead, think ahead and arm yourself with a plan!
Planning ahead for the colder weather with a decent food plan can make or break your fall season. Utilize tools like a crock pot or instant pot to help make meals ahead of time. Plan out a few meals in advance and freeze them so you always have a good food option ready to go rather than grabbing take out. It is also important to allow yourself the ability and freedom to still eat some of the less healthier options. Framing your goals during the colder months can help keep you on track, and upbeat about your progress.
Know what your natural patterns are in the fall season. Know that you will tend to want to move less and eat more. Have a general plan in place for how you will combat the colder weather. Have both a workout plan and an eating plan in place.  These things will allow you to continue to make progress in the colder months, and your next spring and summer to go as planned.
SaveSaveSaveSave