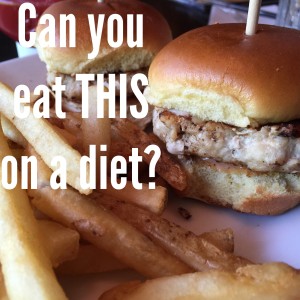 Do you alternate between "perfect" eating and stuffing your face?  Not sure how you can ever accomplish your goals, when you don't wanna give up your fave foods? Always feeling like it's all or nothing (chicken breast and broccoli OR chicken fingers and cheesecake?)
With the explosion of social media, and being able to (supposedly) see what everyone else is doing, thinking, and eating and drinking – it can sometimes cause conflicting thoughts.  The virtual celebrity or fitness model you follow/admire seems to subsist on tilapia and asparagus, but those IRL (in-real-life) peeps at home are hollering for nachos and wings.  You live in the real world, and sometimes life takes over and you find yourself falling headfirst into a box of Krispy Kreme.  Part of you wishes you had the willpower of that fitness model, but the other half secretly screams "why can't I just eat junk and lose weight?!"
We don't feel that you should be forced to waste your tastebuds on (what you perceive as) mediocre-tasting foods, just for the sake of fat loss.  But, be sure to call it both ways.  There are just as many bad tasting junk foods as there are bland-tasting health foods.  There are also total yum versions of both.  If you really want to eat what you love, then DO it.  An eating style that doesn't includes foods you love is doomed to fail.  BUT…make sure that you aren't including your "default" foods (easiest, habitual, most convenient) in the list of things you don't wanna give up.  Especially if they aren't even good TO you.  Get back into the habit of actually tasting your food, and use your tastebuds as the measuring stick for what you "can't do without."  There are plenty of more, nutrient dense, foods that can make better use of the cals your "so-so" foods are taking up.  It's perfectly legit to stop ordering the fries at your fave burger joint if the fries just don't knock your socks off like the burger does.  Eating fast food isn't the end of the world,  but step away from the combo meal mentality to see if you even WANT everything that you typically default to eating together.

My motto: "If I'm gonna eat, it's gonna taste good. If I'm gonna 'waste' cals on 'so-so,' best believe it's gonna be a macro powerhouse 'so-so' "
This way of thinking takes some being honest with ourselves, though. It's so much easier to just claim not changing on "oh I just can't…I like food too much…" or "I don't wanna eat food that doesn't taste good" – not realizing that often the stuff we are eating out of convenience isn't all that great-tasting either.  If it's TRULY yum, eat it.  If it's not, why waste your taste buds on mediocre AND nutrition-less? Keep things you LOVE in your diet, and slowly work to swap out "meh" items for just-as-convenient, equal-or-better-tasting foods with higher protein and fiber.  Even better, keep these items on hand for mindless munching moments, or to hold you over until you get to the meals/foods that make your heart melt.  Matters of taste can't always be changed, but matters of convenience…can.  Sometimes we are just fighting the wrong battle.

While you may not be able to only eat junk and lose weight, you should be able to find a happy medium that includes a hefty amount of whatever floats your boat.  Though it seems new-agey to say "be present" when you eat, it's the first and biggest step to having more yum in your life.  This video talks more about default eating and learning how to dissect your meals so that you can hit your goals while still eating the YUM foods you love.  
SUBSCRIBE to our YouTube Channel for weekly info and motivation.