We know by now that the style of eating that we can stick to for the long haul, is the one that we can count on for results.  But what happens when you just can't stick to ANY diet or style of eating long enough for those results to show?
The thing about habits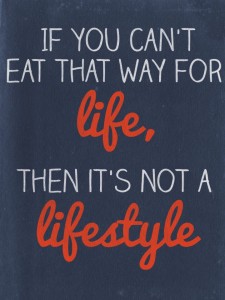 The reason progress seems to elude most of us is because we won't create the habits needed to sustain them. If habits don't change, neither will your results (in the long term).  Habits are the key to lasting change. Just think about it, why is it so hard to stick to a New Year resolution, organizing system, diet/exercise plan, or even weekly date nights? Even the very things that we know would bring more joy and peace to our lives are just plain hard to stick to.
Why?
Well as you well know, when the little gem called "life" kicks in, everything goes out of the window.  And what do you fall back on when life happens? Your old habits. The only way to cancel out the old habits that aren't getting you anywhere is to create new ones that crowd/balance them out.  Though most of us know and agree with this deep down, we still spend a heck of a lot of time trying to find the diet or exercise plan that will solve all of our problems.  But diving into a full blown "plan" with 105 different rules to remember is going to be impossible to keep up long term, because you're changing too many things at once.  The minute you're not following the plan perfectly, you fall off, lose hope, and feel like you have start all over again.
The thing about complication
Sometimes having lots of rules make us feel safe.  We feel like the more complicated the plan, the more real and official it is. Simplicity scares us.  We think "that's all? must be more to it than that?!"
Against popular demand, EM2WL prefers a real-world, no-nonsense approach to fat loss.  We have no desire to get you all hung up on the little tweaks that are unnecessary for most, and not required until the vanity pounds stage (read: four pack, yet desiring six) for others.  We make it a point to only emphasize to you the aspects of the journey that are most important for lifelong success.  Take those basics, put your own spin on it, and proceed to enjoying your life without complication.
This technique is known in the industry as "best practices" – and it's the backbone of any successful endeavor.  Attempting to take what someone else does, and imitating it exactly is a setup for failure because it misses a crucial element: you.
The thing about perfection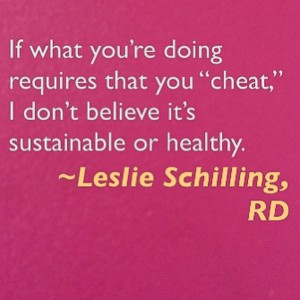 A perfect plan that you can't keep up long term, will never trump the slightly flawed one that allows you to be consistent.  Any style of eating that allows you to remain consistent in the basics, without feeling like a failure for "cheating" is essential to long term progress.  This means that it will take a little bit of work on your end to make sure that the way you choose to eat/workout for fat loss has YOU written all over it. One of the first questions I ask ANY new client is:
"What aspects of your current lifestyle MUST be included in your journey to make it realistic and sustainable for YOU? (food/type of exercise/habits, etc)"
I encourage you to ask yourself this very question as you scour the net for the be-all-end-all of diet plans. (Hint: there isn't one…until you create it). No matter how promising something seems to be — or how many people are raving about it — if you can't see elements of you in it, some tweaking may be required.  If it requires a perfect adherence to the rules, with zero leeway for the things you love, don't be tempted to try to force it to work for you.
Have a great week, Fam!
~Kiki
PS. If you're needing help establishing essential habits, and conquering the basics on YOUR terms, try our 7-day protein challenge.