Ok. It's officially time to stop avoiding this one.  Yeah…I'm talking to YOU.
You've tried just counting calories.  It didn't work for long.  Now you're stuck. You have taken your stab at high carb, low carb, paleo, weight watchers, intermittent fasting, clean eating, more cardio, less cardio, more lifting, no lifting…and that was just last month.  You have probably tried EVERY trick in the book, but progress is a no-go.
How do I know? Because I am you.  Not being the biggest protein fan, I've struggled most of my fit-seeking life trying to find any way of eating that would get me results…without having to establish the one habit I needed most: eating enough protein.
Why Protein?
Protein tends to be one of the often ignored elements – the one that most of us have heard about, but keep downplaying.  Protein is the cornerstone to the most successful diets, and is one of the most agreed upon proponents of fat loss, muscle gain AND a healthy metabolism.  It's a total no brainer, yet many of us totally dismiss its importance – in our constant pursuit of shiny (and quick!).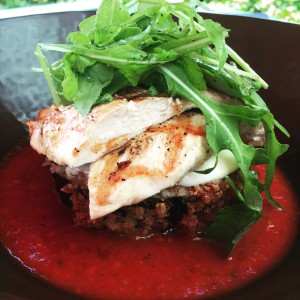 Those of us who have accepted it, still shrug off the concept thinking that we probably eat "enough" protein already. Maybe. Maybe not. I fooled myself for years thinking that I was eating enough for my goals…even though hitting 100g on a good day was tough for me.  I thought that having some protein at every meal was sufficient. As I hit the research a bit harder, I discovered that despite all that I'd accomplished, I wasn't even coming close. Finally accepting, and attempting to truly step up my game has been a game changer.
My clients now know that before tackling ANY other area (including lowering cals), they must exhibit the ability to hit their protein goals consistently. I tell them plainly, that if they can't hit the protein goal eating at maintenance, there's no way they'll be able to eat enough with even less calories. Since protein needs increase as calories decrease, skipping this step is devastating to progress.
The 7-Day Protein CHALLENGE
I learned a few tricks along the way, that can help ANY carb queen (or king) become a Macro Master (title claimed by my hubs when I taught him these same tactics). I've picked the top seven and turned them into a 7-day challenge that you can do as many times as you like, until the habits form. Habits that will ultimately catapult you to the next level. The challenge also includes a 16-page guide to help you nail your goals any time, anywhere. The goal: to get to the point where you are applying ALL of the tips effortlessly as a part of your new lifestyle.
Many of you have already signed up and stepped up to this challenge. The rest of you…what are you waiting for? If you find it impossible to even consider eating 1g per pound of bodyweight (150+ pounds and still struggling to get in 100g? Not gonna work), this challenge is for you.
If you think that you need implement multiple changes, I encourage you to first get yourself to the point where you are hitting your protein goals every week (based on your weekly average) for at least 6-8 weeks straight. Then if you need to change something else, go for it (but keep the protein at that level).
Until then, come join us!
We'll be using the hashtag #em2wlproteinchallenge to share and hold each other accountable. Come on…you can do anything for 7 days!
~Kiki :)
SaveSave
SaveSave
SaveSave
SaveSave
SaveSave