Progress pictures are usually the gold standard when it comes to seeing fat loss results. However if you are taking crappy pictures, this can skew your real results and make you believe you aren't progressing at all. Somehow progress pics have been relegated to what we see on Instagram. Obvious results in your before and after shots and no mention of what happened during the "in between" time of your photos. Over time, this has caused people to have a warped sense of what true progress pictures should look like. Let's take a look at the reasons why we may not be seeing any progress in our photos.
Why your photos suck and what you can do about them

Weird times of day/month. Whenever you take pics, pick a consistent time where they will be taken in. You're always gonna look leaner in the morning than you do in the evening with a belly full of food, and body full of sodium. Comparing photos taken at different times might have just enough bloat happening to hide the tiniest bit of change.
Camera positioning. A higher placed camera angle will always make you look leaner than a lower one. Don't ever compare the two. Pick your position: put the camera there every time and walk to the exact same spot every time. Taking close up pics will always make you look bigger than further away, and headless body shots zoomed in will give you grounds for crying!
Focusing only on "problem areas." When you do this you're not paying attention to whether you have progress elsewhere. Problem areas are called that for a reason. Expect them to be the LAST to go and stop studying them and allowing what appears to be lack of progress dictate that ALL progress is nonexistent.
Not understanding juxtaposition. If one area is shrinking faster than another, the slower shrinking area will look BIGGER. If all areas are shrinking at the same rate, it typically means pics appear EXACTLY the same.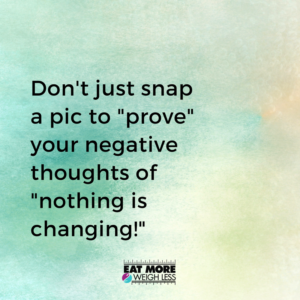 You don't have "the eye" (or you're annoyed by it). Sometimes the oddest things will indicate progress. Maybe your bra strap isn't digging in anymore. Maybe your swimsuit bottoms cover more bottom than before,  or maybe a tattoo has "moved" a little on your body.
If you're gonna look, look for PROGRESS – don't just snap a pic to "prove" your negative thoughts of "nothing is changing!" Take pics to prove yourself WRONG, and use ANY progress as a sign that you're still on the right track to LONG LASTING progress. (The longer it takes, the longer it'll last, because the habits required to maintain it will be rock solid)
SaveSave