Meet Our Team – Team EM2WL
Trish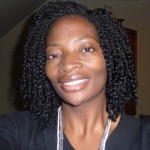 A technology geek by day, fitness junkie by, er, early morning I'm also a big time foodie, but simply mom to my girls. I've had my fair share of body image issues as a young woman which lead to the typical weight loss/gains, endless battles with food, chasing after ever-higher calorie burns and, overall, just having a diet-crazed mind set. After years of doing cardio-based fitness, I was introduced to the concept of heavy lifting and eating more by EM2WL co- founder, Kiki, and have never looked back! With all of the conflicting information rampant in the media and online, I made up my mind to do my own research which lead to certifications in fitness training and nutritional coaching.
A Texas native raised in northern New Jersey, when not in my home gym, you might find me trying out a new recipe, reading up on fitness or nutrition research or on the go with my two little dancers – Amaya and Olivia. As a married, full-time working mom, I understand the pressures faced by women who want to have it all. Women have enough to deal with without starving themselves to be a certain size or a number on a scale. You can achieve your fitness and body composition goals without going to extremes, but with moderation and consistency combined with a little bit of patience – a tall order in our microwave society. As part of the EM2WL team, I'm here to help you find a better way to reach your goals, one that doesn't leave you hungry, but satisfied and confident. Read more about my EM2WL journey here.
 Joan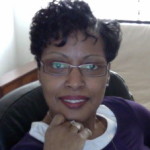 My name is Joan O'Neil, I was born and raised in OH.  I am the youngest of 7 children.
I'm now 49 years old and I have been married 30 years to my love Tom.  I am a full time retail manager and My husband is retired Navy.  We now reside In the state of VA.  We have two sons ages 28 and 20, and we are expecting our first grandchild in November 2013!
Other than my weight gain after pregnancy, I've never had a major weight problem.  Most of the time I was careful to eat very little, and stay active doing some type of cardio! Usually riding a stationary bike or walking.
Unfortunately that changed as I got older and I eventually found myself eating a whopping 1300-1400 cals and TONS of cardio to lose (and eventually maintain) my desired weight.  A weight that looked NOTHING like I imagined it would (can we say skinny fat?).  Well, eventually I discovered the EM2WL ladies, ditched (some of) the cardio, picked up some iron, and the rest, is history! (Well not really, check out the rest of my story here.)
Armed with my new-found knowledge and determined to help other ladies not make the same mistakes, I volunteered to help out EM2WL in any way possible.  I signed up to be a moderator for the original MFP forum, and eventually the new site forum as well.  And now am a proud member of Team EM2WL.  I am walking through the process right along with the fam, and want to encourage everyone I possibly can in their journey.
I am now eating more, lifting weights, and building the body I used to dream of having in my 20s and 30s…NOW at the age of 49!
The scale no longer defines me!! I didn't have to starve to reach my goal, and I don't have to starve to maintain it!  And neither do you!
Tereza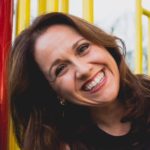 "I am a full time, do-it-all mom of a teen, a pre-teen and a toddler while being a personal trainer. I am Brazilian and Floridian by trade.
Through most of my life I was of average size trying to become thinner by over exercising and avoiding food. No matter how hard I tried, I would look skinny-fat at most. After dealing with a miscarriage, I decided that I needed to change, that I needed to improve myself to be able to grow older happier, healthier and stronger, physically and mentally. I had started working and logging calories on MFP when I found EM2WL and they had me at "eat more"!
It didn't take me long to fall in love with lifting and with the new, more confident, happier, stronger and healthier me. I got my CPT certification with NASM, became a Cathlete and looked better at 40 than in my 20's! I could eat the cake and have it too!
I want to become the best "me" that I could ever be and show that it is possible to be done. One of my goals is to share my passion on being healthy, happy and stronger, specially with moms who have the same daily struggles. As part of the Team EM2WL, I can help you in your journey of discovery and improvement by showing that there is a better way to become the best YOU possible. " Read more of my EM2WL journey here. 
Ichel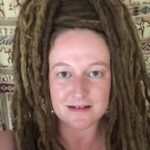 I am Ichel, a Rastafari woman and mother to 4 children, 3 boys ages 15, 13 and 9 and a girl age 6. I have been with my kingman for nearly 20 years. I have dual citizenship of the U.K. and Barbados. I live with my family in the hills of Northumberland in the North East of England.
I have a long history of disordered eating and exercising going back to my teenage years when my idea of control resulted in anorexia. I recovered physically but found the mental chains lingered for a very long time. I stayed a 'normal' weight by being very careful about what I ate and doing plenty of cardio.
Life was ticking along nicely, until I had many huge life changing events all happen within about 12 months. We decided not to move back to Barbados, we bought our first home, but the biggest sledge hammer was my mum. We've always been very close, she adored my children, I'm happy to say I made her a Nana. She became unwell, was diagnosed with cancer and passed away all within 9 weeks. It was devastating.
The repercussions of us working together in a family business also meant that my brother and I had to take over financial and total management control of the company as my father retired. Oh, and during all this I found I was pregnant with my daughter! To say life upside down would be an understatement! I found the loss of my mum along with all the other pressures going on very hard to deal with. I stopped exercising and was a lot less careful about the types of food I ate. Before I knew it, I gained quite a lot of weight which just added more pressure! I decided to do something about it and slashed calories and started doing cardio again but I was miserable.
A friend pointed me towards EM2WL when she saw I was not losing weight eating 800 calories of lettuce and cabbage a day. Well that was life changing in a positive way! Kiki and Lucia gave me so much help and answered my dozens of questions. I went away and researched everything I could about the terms which were new to me; TDEE, BMR, lean body mass, metabolism, catabolic, anabolic… I tentatively increased my calories and began weight lifting to Cathe DVD's. I was hooked! Over the last 4 years, I have increased calories to 3000, increased protein to over 200g, have seen massive body changes through regular weight lifting, I have not weighed myself for over a year, the list goes on!
I feel the best I ever have. I am stronger than ever. I am content and thankful with my life. My obsession with plants covers all aspects. I landscape my own garden (being strong comes in handy when you cart around tonnes of gravel!) but mainly I just love plant nutrition. My whole family is vegan, my children all have been since birth. I had to research and learn a lot about making sure we got everything we needed. I continue learning and research in this area all the time. Now I am at a point in life where I am confident, I celebrate being strong, I embrace being a business woman, mother, wife and am truly happy and healthy. (Check out more of my story here.)
Kelly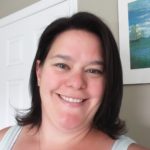 I am a stay at home mother of two girls, aged 5 and 7, a part time cake decorating instructor and a weight lifting lover. I have always been a heavy gal, being overweight all through childhood and finally joining weight loss groups as a young adult. I had lost over 100 pounds starving myself on the latest points program, and promptly gained almost all of it back after two childbirths. I had stumbled upon EM2WL over 4 years ago when I was frustrated with another round of diet programs which weren't helping me to lose any weight. I figured there had to be a better way to lose the weight and not starve myself.
After reading about the group I immediately started increasing my calories and learning about strength training, diving head first into a completely different way of looking at eating and exercise. I learned how to eat more protein, increased my calorie level from around 1400 to 3200 cals, and gave up the endless cardio train I seemed to be on. Since then, I have spent the last few years really learning about resetting my metabolism, how to hone in on macros, and how to lift weights properly and how to de-stress my very busy life. It hasn't been without setbacks, but I have learned so much about myself in the process, I wouldnt change it for the world. I have learned that this journey is not just about weight loss or fat loss, it's about loving myself and loving my journey – No matter my size. Losing the weight will not instantly make me a happier person, so I better learn to love me as I am and be happy at any point in the journey.
This way of life changed how I view the dieting industry and I am eager to continue to learn more about strength training, nutrition and how to be done with the fad diets forever. I may not be an "After" story yet, but I speak for all of the larger gals out there – we may not be a tiny size, but that does not mean we aren't healthy, happy and loved.  Check out more of my story here.
Featured Blog Contributors
Anitra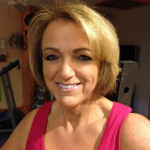 A little bit about me: I am a mother of one amazing daughter and an even more amazing granddaughter!  I spent the majority of my adult life working as a Veterinary Technician at a large Equine Veterinary Practice in South Florida. After becoming tired of the constant stress, we moved to the mountains of Northwestern North Carolina where I currently work full-time as Office Manager at a real estate firm.
I have never been one of those lucky people who was naturally thin. I have battled with my weight for as long as I can remember, at one point hitting an all-time high of 260 pounds. Like so many others, I have spent the majority of my life on and off of low calorie "quick fix diets" of all kinds, killing myself with endless hours of cardio, only to gain all the weight back when I was unable to maintain that lifestyle.  Little did I know, I was killing my metabolism along the way too…
I discovered EM2WL at the age of 49, and spend the next several months of my life doing a full re-set and healing my metabolism. I have finally reached a point where rather than maintaining on 1,000 calories, I can now comfortably maintain eating 2,100 – 2,200 calories.  It was a long road filled with doubts and fears, but it has been so worth it!
I have also incorporated strength training into my daily life, and have found it to be so empowering.  I love the way it has changed the shape of my body.  Although I have no aspirations to become a power lifter, I know that at the age of 53, I have found the secret:  you have to fuel your body, and you have to create lean body mass to increase your metabolism and improve your shape. Simple.
I have enjoyed learning, researching and reading along the way.  My need to learn resulted in my obtaining my Certified Fitness Trainer certification, and I now have also obtained my Specialist in Senior Fitness Certification as well.
I am so happy to have found a maintainable way to stay strong and healthy well into my old age. "Trust the process" — it works!  Check out my journey story here.
Becca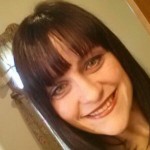 I am a busy wife and homeschooling mother to five children ages 5 to 13. I am well acquainted with the unique challenges that motherhood presents in achieving a lifestyle of fitness! About three years ago, weighing in at 275 pounds, I decided to face a personal battle with obesity. Fed up with the dieting game, I learned the importance of eating enough to support a healthy metabolism (read my story here). Over the course of three years, I have lost approximately 100 pounds and gained a passion for strength training.  Today I am a competitive powerlifter and strongwoman athlete who enjoys cooking (and eating!) delicious food for my family.
As an ISSA certified personal trainer, I am passionate about helping women to begin a lifestyle of health and fitness.  I love helping women to discover their strengths, both in and out of the weight room.  I believe achieving your health and fitness goals should be fun, sustainable, and empowering. I blog for Eat More to Weigh Less and share my training logs, recipes and fun at http://www.primalstrengthandfitness.com.