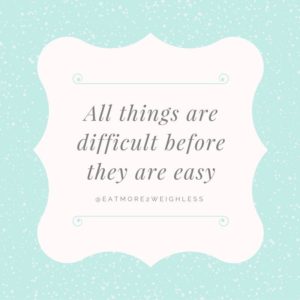 Article by: Ichel, of Team EM2WL
Let's face it. We all think we're special snowflakes. That certain rules only apply to others. That particular thing doesn't matter if I do it or not. Yes, it might be how others got results but I'm different because…
They are called blind spots because we can't see them. It's not arrogance or rebellion. It's a case of cognitive dissonance. We have been conditioned to think a certain way for so long, that to challenge it is to challenge our core beliefs. It's uncomfortable. It's scary.
My blind spot was protein. I walked the EM2WL walk. Increased my calories. Strength trained with periodized workouts. Got my fibre in. Got my water in. Increased my protein. Yet the old cliche of spinning wheels was happening. I was confused, frustrated.
My trainer pointed out that my protein was averaging 17-20% Well, yeah! I'm a vegan! The 30% rule can't apply to me! It's impossible to get 30% from plant-based sources!
Then she pointed out that actually, as a vegan, I should shoot for 35% as plant-based sources are digested differently to animal proteins. Wait. Whaaaaat!! From then, every question I asked got the same response.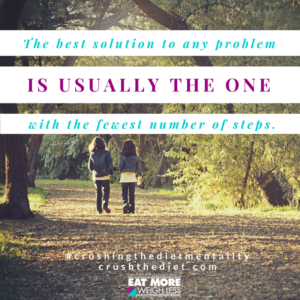 Where should my calorie level be at?
How's your protein?
Should I add in walking?
How's your protein?
Am I doing enough cardio?
How's your protein?
I had to face it. Head on. Time to pull up my big girl plant-based pants and get it done! I started having protein shakes for breakfast. Found a pea protein sausage and high protein bread for lunch. Adapted the family evening meal to be high protein.
It wasn't overnight, and there were some disasters (hemp protein powder, bleurgh!) but I now consistently hit 250g protein per day.
Within a couple of months, I started to see body recomposition. Muscles had more definition. Recovery after workouts improved.
My blind spot had been removed! We will all have a blind spot somewhere in life. It can be the one thing stopping us from reaching our goals. So if you hear someone telling you the same thing over and over, it might be worth asking yourself if they are revealing your blind spot to you.