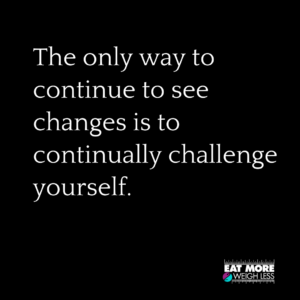 Plateau Prevention 101: Workouts
When it comes to hitting plateaus along your journey, it's not a matter of "if," but "when." Knowing that plateaus will come should prevent you from the all-too-common mistake of trying to change too many things at once.
This is difference between amateurs and pros. Pros know start small, tackling one bite sized chunk after another.  This not only helps them have a plan in place before they plateau, but assures that they can actually stick to the plan — progressing for years to come.  Amateurs try to move ahead "faster" by biting off more than necessary. This not only gives them nowhere to go when they plateau (because they're already doing the MAX, when the minimum would have given the same result), but they also burnout very early on in the process, and give up. Over. and. over. Instead of approaching your journey in the all-or-nothing way of the amateur, let's level up and attack your workouts like a pro this year.
Tips for preventing plateaus:
5 ways to add challenge/variety/levels to your workouts
Rep ranges – Don't just stick to one. Try alternating short periods (daily, weekly, monthly) of one rep range before moving to another.  Don't get nostalgic or think that one rep range can do it all. It can't/shouldn't. (common rep "ranges" to alternate: 1-8 reps, 9-12 reps, 13+)
Amount of weight you're using – Every time you change rep ranges, the amount of weight lifted should change. Higher reps = lighter weight, lower reps, heavier weight.  If you're sticking to one rep range for several weeks, you should be seeing weekly increases.  At the very least, your weight by week 4-6 should be heavier than weeks 1-3.  If your weights aren't increasing, time to take a break from that phase.
Rest periods – Rest periods are not set in stone, they can range from no rest, to 3-5 min of rest depending on the above. If you're lifting heavier weights for lower reps, you'll need longer rest periods to keep hitting it hard. If you're lifting light weights for high reps, less rest is needed.
Exercise type – Compound vs isolation movements. Each has benefits, so don't be extreme, or expect any one exercise movement to be a holy grail.  But as a general rule of thumb, beginners should stick with more compound movements (1-3 yrs), and advanced lifters (3+ years) can benefit from some isolation work.
Cardio – be strategic, add it slowly, if at all, based on preference. Your body quickly adapts to traditional forms of cardio, so adding in a ton from the jump makes it have a less of an impact in the long run. Unless you're an endurance athlete, or just love cardio (and fully understand/accept it's limits/diminishing returns), you may want to consider cardio as an occasional, "finish line," or recovery-only basis.