In our family, summertime (or really any time for that matter!) is grilling time. The other night, we made these awesome chicken bacon skewers and they are UNBELIEVABLY good for being such a simple recipe.
Smoky Chicken Bacon Skewers

Print recipe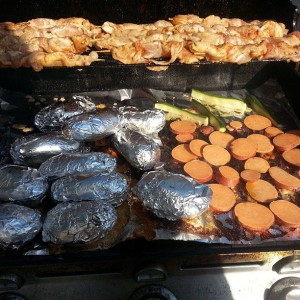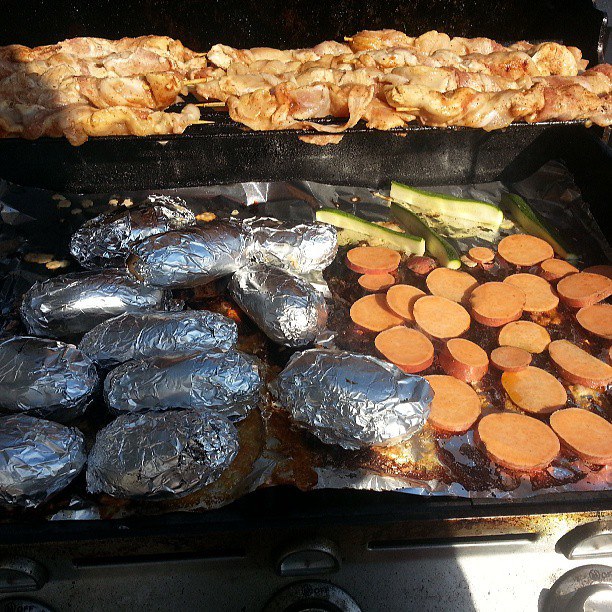 Make these chicken kabobs for your next barbecue. Guaranteed to be a crowd pleaser!
Ingredients
3lb Boneless, skinless chicken tenders (or chicken breast cut into chicken-tenders type strips)
1lb Bacon
1/2 cup Barbecue sauce
1/2 cup Asian-style vinaigrette (I use Bolthouse Farms)
1 tablespoon Garlic (crushed)
1 tablespoon Smoked paprika
1/2 tablespoon Chili powder
1 teaspoon Salt
1 teaspoon Black pepper
Directions
In a large bowl whisk together barbecue sauce, vinaigrette, garlic, paprika, chili powder, salt, and pepper. Pour into 9 x 13 pan. Set aside.
Thread chicken tenders onto skewers. Wrap bacon around chicken and secure ends.
Place skewers in pan and cover with marinade. Allow the bacon-wrapped chicken to marinate for about 4-6 hours.
Grill the skewers on low heat for about 20 minutes. Then move to high heat and finish grilling to crisp the bacon, about 5 minutes.
Note
We like to serve these with grilled veggies (sweet potatoes, baked potatoes, and zucchini). Such a simple and delicious meal!
Makes 12 skewers.   Nutrition facts per skewer: 202 calories, 3 g carbohydrates, 10 g fat, 26 g protein
Becca is a busy wife and homeschooling mother to five children ages 5 to 13. About three years ago, she embarked on a journey to health and fitness that resulted in the loss of approximately 100 pounds. Today, she is a competitive powerlifter and strongwoman who loves ice cream and deadlifts.  As an ISSA certified personal trainer, she is passionate about helping women to get started on a lifestyle of strength and fitness.