Team EM2WL would like to extend a warm welcome to our newest guest blogger, Andréa, from Andréa's Protein Cakery!   Today Andréa shares a high protein snack that will satisfy your sweet tooth!
Perfect for your Thanksgiving feast, a healthy, high-protein sweet potato pie!

To transform a traditional recipe into Sweet Potato Protein Pie, I made some simple recipe exchanges. Instead of using a traditional pie crust, I made one using almond butter and vanilla rice protein powder. It tastes great, and has the flaky crust texture you'd expect in a pie. And instead of sweetened evaporated milk in the filling, I mixed some vanilla whey protein powder with water. Easy! I left out the added sweetener here, but if you'd like a sweeter protein pie I suggest adding ¼ to ½ cup coconut sugar or date sugar.

With ingredients like these, you can enjoy Sweet Potato Protein Pie anytime!
Sweet Potato Protein Pie

Print recipe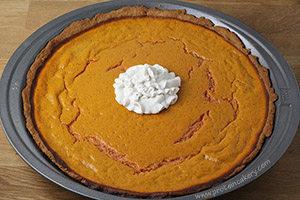 Ingredients
Crust
1/3 cup almond butter
1/3 cup filtered water
1/2 cup vanilla rice (or pea) protein powder
1/4 teaspoon ground cinnamon
Filling
1-1/2 cup cooked sweet potato
1 cup filtered water, separated
2 Large eggs (whole)
1/2 cup natural vanilla whey protein powder
3/4 teaspoons ground cinnamon
1/2 teaspoon ground nutmeg
1/2 teaspoon sea salt
Directions
Crust
Preheat oven to 325F (163C).

In a medium bowl, mix almond butter with water until smooth.
Add in rice protein and cinnamon. Mix until combined. (If the batter is sticky, add a little more rice protein.)
Press into 9" pie pan.
Bake for about 10 minutes, then remove from oven.
Filling
Meanwhile, puree sweet potato with 1/2 cup water.
Pour into a bowl, and add eggs. Mix until smooth.
Combine with remaining ingredients (including the remaining 1/2 cup water) and mix well.
Pour into pie crust.
Bake for about 40 minutes, until the center of the pie is firm to the touch.
Let cool completely.
Top with cashew whipped cream (if desired, not included in macros) and enjoy!
Note
Makes one 9" pie (8 servings)
Per serving:
Protein: 14g
Carbs: 10g
Fiber: 2g
Sugar: 3g
Fat: 7g
Calories: 162
Follow Andréa's Protein Cakery!
Recipe blog: www.proteincakery.com
Instagram: instagram.com/proteincakery
Facebook: www.facebook.com/proteincakery
Twitter: twitter.com/ProteinCakery
Pinterest: www.pinterest.com/proteincakery/
Youtube: www.youtube.com/proteincakery