Having trouble reaching that Protein Macro but still craving a sweet, carb-filled breakfast, or maybe in the mood for breakfast at dinner?  Enjoy this great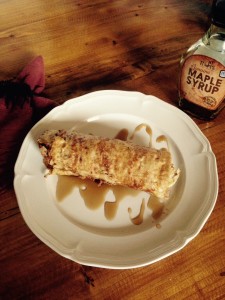 recipe packed full of protein that you can enjoy any time of the day, while still satisfying that craving for something sweet.  And the best thing?  It is very easily adaptable depending on ingredients you have on hand and the portion size you would like to create…   Also, feel free to add berries or bananas to switch things up – use your imagination and build on the basic recipe!
Here is what you will need:
~ Eggs (or Egg Substitute).  You will need at least 2 eggs or 1/2 cup egg substitute, more if you would like a bigger portion
~ Cinnamon – 1/2 tsp
~ Nutmeg – 1/4 tsp
~ Salt – 1/4 tsp
~ Agave or any Sweetener of Choice (sugar, maple syrup, coconut sugar, artificial sweetener) – amount necessary will vary on quantity of eggs used.  For a large 3 egg serving I added 2 Tbsp Agave
~ Tortillas or Wraps (again, quantity depends on serving size you would like to create)  – For a large meal, I use 2 High Protein, High Fiber Whole Wheat Wraps
~ Cooking Spray
~ Maple Syrup  to top the final product
Mix/whisk the first 5 ingredients in a pie plate sized sized dish until well combined (something big enough to dip the wraps or tortillas in…)
Preheat a frying pan and spray with cooking spray
Dip one of the wraps/tortillas in the egg mixture, coating thoroughly, and place in pan, flipping to cook on both sides.  Repeat if using 2 wraps/tortillas. Transfer cooked tortillas to a plate
Spray your pan with cooking spray again, then pour in your remaining egg mixture, cooking on both sides to create an omelet of sorts
Stack your wrap/tortilla(s) and the egg mixture "omelet" and roll up creating a large log-shaped creation
Top with Maple Syrup and enjoy!
This recipe satisfies that craving to eat something sweet, but also really packs a protein punch!  Your egg "omelet" serves to help make your roll-up into a generous portion, but because it is sweetened and flavored to taste like French Toast, you aren't eating the same old boring plain eggs yet again!
Prepare to be filled up!  The "finished" photo was taken on a full-sized dinner plate …. that's a big meal!