Team EM2WL would like to extend a warm welcome to our newest guest blogger, Kellie, from The Suburban Soapbox!   Today Kellie shares a healthy and delicious stir-fry recipe the whole family will enjoy!
I'm so excited to be a guest blogger here at EM2WL!  We share the same philosophy about food and understand that being healthy and losing weight doesn't mean you need to sacrifice on flavor.  I live to eat…I mean, I think about food constantly during the day…sort of obsessively so every move, every exercise, every step I take is so I can enjoy eating the things I love!  But…I also believe everything is good in moderation and that's why I, also, take some of my favorite recipes and make them a bit healthier.  A little ying and yang of food, if you will.
Here is a family favorite in my house and a little story to go along with it.  Thank you, Trish, for inviting me to be a part of your happy family here at EM2WL!  I look forward to sharing more of my tasty favorites in the very near future!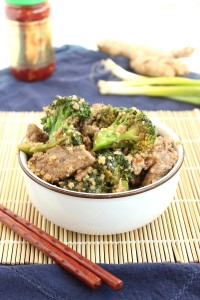 This is the easiest recipe I ever made.  Originally made with the help of a bottled stir-fry sauce, one look at the sodium content and I knew I needed to make some modifications.  And as much as I love white rice, quinoa is just a better option when you're trying to pack in some nutrients.
Plus…I really only love white rice that's swimming in butter.  Or in a sushi roll, but even then I could really just do without.  It's a thing with me…I know it's weird.
You can cut the beef up in advance, as well as, the broccoli to save time.  And leftover quinoa is definitely the way to go with this recipe.  So, if you're making something with quinoa for dinner earlier in the week…always make a little extra to throw into a stir-fry.
Another thing I did a little differently, I threw the quinoa into the stir-fry pan at the end.  To get it a little crispy.  And to make sure it was all mixed up with the other ingredients.  Most places throw the mixture onto of the rice but I felt like that method left the quinoa too bland.  Plus, I love that it gets all mixed into the broccoli florets
Leftovers keep well for lunch the next day.  So you won't need to hit up McDonald's.  Like I did today.  (Yes, I regret my choices.  Moving on.)
Beef, Broccoli and Quinoa Stir-Fry

Print recipe
A new take on an old favorite, this nutrient packed Beef Broccoli and Quinoa Stir-fry from www.TheSuburbanSoapBox.com will be a hit with the whole family!
Ingredients
4 tablespoons chili paste
1 teaspoon toasted sesame oil
1-1/2 cup cooked quinoa (I use Bob's Red Mill)
3 tablespoons rice vinegar
3 tablespoons ginger (minced)
1/4 cup honey
1/4 cup low sodium soy sauce
1lb flank steak (cut across the grain into 2 inch x 1/4 inch pieces)
2 tablespoons cornstarch (I use Clabber Girl)
salt and pepper
3 tablespoons canola oil
3 cups fresh broccoli (chopped)
3 cloves garlic (minced)
Directions
In a large bowl, toss the steak with the cornstarch to coat and season lightly with salt and pepper.
In a small bowl, whisk together the honey, soy sauce, rice vinegar, chili paste and sesame oil. Set aside.
Heat 2 tablespoons of oil in a large wok, stir-fry pan or skillet over medium-high heat and add the steak to the pan. Working in batches if necessary, cook the steak until brown and no longer pink. Move the steak to the sides of the pan and add the broccoli.
Cook the broccoli until bright green and then move to the sides of the pan with the steak. Add the remaining tablespoon of oil to the pan and add the ginger and garlic, cooking for 1 minute.

Add the quinoa and cook for 2-3 minutes, stirring occasionally and then mix all the ingredients together in the pan. Add the sauce mixture and stir to combine thoroughly. Continue cooking for 2-3 minutes and then serve immediately.