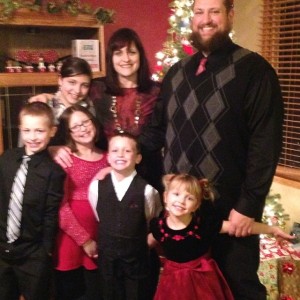 Combining family and fitness
Trust me, as a busy momma of five children I understand that feeding a family, presents its own unique challenges.  When you are working towards eating for your fitness goals, that can be even more challenging.  And if you throw an food-allergic child or two into the mix, things really get interesting!
For years, I allowed these challenges to overwhelm me to the point that I figured there was no way I could possibly lose weight or become fit.  I allowed excuse after excuse to creep in, and eventually just stopped trying.  Years later, I came to a point where I realized that my excuses finally caught up to me.  I had to make a way to embrace my challenges and succeed in the midst of them.
I've been at this for about three years now.  After struggling to lose weight despite being on one diet right after the other, I learned that our whole family needed to embrace the changes that I was attempting to undertake.  Fortunately, I am blessed with a great support system in my husband and children.  Today, all of us are healthier, more active, and happier.  Instead of looking at this like a diet, our whole family's lifestyle changed.
Over the past three years, I have emphasized eating for different goals including powerlifting performance, weight loss, muscle gain, and fat loss. However, our family's approach to eating has remained fairly consistent.
Below are a few things I've learned along the way…
Ditch the Diet Mentality

There's no reason that you should have to prepare separate meals for you and your children.
Even if you're eating enough calories, preparing separate meals tends to make you feel like you're on a diet. This feeling of mental restriction may actually trigger binge eating.
With a little recipe tweaking, even kid-pleasing family favorites like pizza, tacos and spaghetti can be included into your weekly meal rotation.  Simple tweaks like adding a serving of protein, adding more veggies, or trying out a healthier twist on a recipe can ensure that you are hitting your macros.  Get creative in the kitchen!
Have a weekly meal plan and stick to it
This can be as detailed as you want! To begin with, I'd recommend coming up with a list of weekly dinners. It may be helpful to ask for some input from your family as you are coming up with your list. I usually keep a list of meals on the refrigerator, and will sometimes ask my family which meal sounds best to them in the morning.
If you're stuck in a cooking rut, you might check out our Pinterest boards for some healthy alternatives to family favorites. Your local library probably has some great cookbooks that you can check out for some new ideas.  Trying out a new recipe once a week can be a fun family adventure, and may lead to coming up with some new recipes!
If you are home all day with young children, it may be helpful to come up with a list of breakfasts and lunches that they can select from. Keep some options for easy meals on hand, and as they get older, allow them some freedom to make choices and prepare their own lunches or breakfasts.  It's a great lesson in responsibility.  As a homeschool mom whose kids seem to always be hungry, this has been a huge time-saver for me.  Now that my oldest three are 13, 11, and 10, they are pretty self-sufficient and usually select pretty healthy meals for themselves.
After you've come up with your meal list for the week, make your grocery list so that you have everything on hand you need for a successful week of cooking (and eating).
 Plan a day for food prep
After your trip to the grocery store, it may be helpful to do a little food prep make the cooking process a bit faster.
S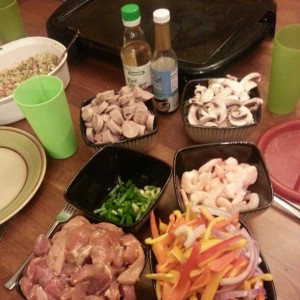 ince you already have all the groceries out, why not take a few extra minutes to think about the meals you have planned for the week ahead.  It only takes a few extra minutes after you get home from the store to cut and bag fresh veggies, cook up and freeze some hamburger meat for soups and casseroles, or separate foods into single-serving containers.
I like to do this on grocery shopping day because there are already so many things to put away! I usually prep a few casseroles for the freezer to give myself some quick grab-and-go meals for those busy nights when I don't have a lot of extra time. I also tend to cook extra meats, rice, potatoes , or vegetables when I am already cooking so that I can re-purpose the leftovers into a whole other meal. Thinking ahead can save a lot of time in the long run!
Don't keep self-sabotaging foods in the house
At EM2WL, we are all about including all foods into your healthy eating plan.  Nothing is off limits!  That being said,  however, many of us have foods that tend to be triggers to throw caution to the wind. It's important for each of us to recognize our limits in this department. Keeping a lot of highly processed snack foods in the house "for the kids" may be a recipe for disaster if you are prone to occasional binges. Trust me, the kids will be okay without keeping them in the house.  Help them to come up with healthier alternatives for snacks instead! Know yourself and your limits.
Involve your kids in the kitchen
Getting your kids interested in eating healthfully can be as simple as inviting them into the kitchen.
Not only does getting them in the kitchen teach them math skills, responsibility, and nutrition, it can also be a fun time spent just with you. Even very young children can help measure ingredients, pour, and stir together a recipe. An older child can be taught to make an entire recipe by themselves and will get tons of satisfaction proclaiming they made dinner "all by myself"! Spending time in the Besides, they are much more likely to try something different if they have helped you prepare it!
Take the time to educate your children about the importance of including all kinds of foods as part of a healthy and balanced diet. These important life skills will serve them well their whole lives!
Don't completely eliminate treats
Having a moderate and balanced approach to all foods, including treats, is an important part of any successful approach to eating.
Food is fuel, but it is also an important part of our family get-togethers and celebrations. Plan on including some mini-indulgences in your eating plan now and then.
Bake some cookies with your kids. Enjoy a cupcake guilt-free at your little girl's birthday party. Have a few slices of pizza during family movie night. Enjoy the freedom to pursue your health and fitness goals without sacrificing your sanity! This isn't a diet, but a lifestyle. Consistency matters! Make choices that allow you to win at consistency.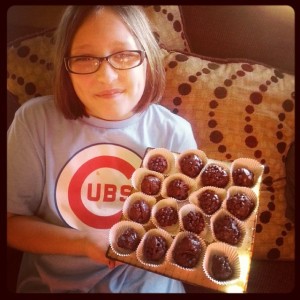 Becca is a busy wife and homeschooling mother to five children ages 5 to 13. About three years ago, she embarked on a journey to health and fitness that resulted in the loss of approximately 100 pounds. Today, she is a competitive powerlifter and strongwoman who loves ice cream and deadlifts.  As an ISSA certified personal trainer, she is passionate about helping women to get started on a lifestyle of strength and fitness.