She had me at "Dark Chocolate"…I can't wait to try out these yummy sounding Dark Chocolate PB Protein Cookies shared by Emily Zaler, author of  The EZ Whey Cookbook.  If you like these, be sure to check out her cookbook for more inventive recipes using protein powder.
Dark Chocolate Peanut Butter Protein Cookies

Print recipe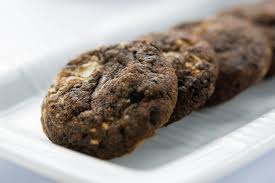 Low Carb Dark Chocolate PB Protein Cookies
Ingredients
1 scoop About Time Peanut Butter Protein
1 cup Canned Pumpkin
1 cup Liquid Egg Whites
1 cup Natural Peanut Butter or Almond Butter
1/2 cup Unsweetened Dark Chocolate Cocoa Powder
1/2 cup Flaxseed
3-4 packets Stevia (to taste)
1 teaspoon Baking Powder
Directions
Preheat oven to 350 degrees
Mix all ingredients together in a large mixing bowl.
Drop by the tablespoon on to a cookie sheet lined with foil or sprayed with non-stick cooking spray.
Bake for about 10 minutes or until firm.

Note
Nutrition Information Per Cookie:
100 Calories, 7 grams of Fat, 4 grams of Carbs, 6 grams of Protein
Emily Zaler is a Certified Personal Trainer, Certified Sports Nutritionist, Author of The EZ Whey Cookbook, Magazine Columnist, Personal Chef, and Owner of The EZ Whey LLC.  She holds her Bachelors of Science in Exercise and Wellness from Arizona State University. Emily and The EZ Whey have been featured in multiple media outlets worldwide, including Print, Television, Radio Shows, Online features, Newspapers, and Magazines. Top publications such as The LA Times, Chicago Tribune, Oxygen Magazine, Muscle and Fitness Hers, Runner's World, Max Sports & Fitness, Physique Magazine, World Physique Magazine, Extra Fit Magazine, STACK Media, Inside Fitness Magazine, Scottsdale Health, Natural Bodz, and many more, have all featured Emily and The EZ Whey.