Kellie from The Suburban Soapbox is back to share another yummy recipe!  This one is a little bit spicy, a little bit sweet and totally delicious!
I'm happy to be back again for another guest post at EM2WL!  It's been a busy couple of weeks and I think we finally saw our last snow flake.  I think.  I hope.  I can see my grill so it's an exciting time of year.  I love to grill because it's the easiest way to impart flavor and crusty goodness without adding any fat!  AND bonus points because you have less dishes to clean.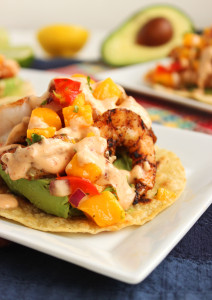 We went to Mexico for Thanksgiving.  I don't travel during the holidays because I'm a creature of habit…or tradition.  I like spending my holidays in familiar surroundings with familiar family and, even more, familiar food.  Have you ever seen a turkey in Mexico?  I'm sure they exist but I'm equally sure the hotel had a contract with Butterball.  So, on Thanksgiving day…I had a shrimp tostada for lunch. And an enchilada for dinner. The Pilgrims would be so jealous.
USUALLY, I'm knee-deep in sausage stuffing and mashed potatoes with, constantly full, glass of wine in my left hand. This past year, I was knee-deep in the Caribbean.  It was weird and surreal.  I missed my familiar.  I know, I sound like a brat.
Back to the tostada…my shrimp tostadas in Mexico were tiny…and they were a little on the "could use more zest" side.  So, as I was stuffing my face on the beach…in Mexico…on Thanksgiving day…not with turkey and gravy…I vowed to make my own version at home.  I wanted more heat, more kick, more avocado.  And I wanted a fresh, fruity salsa.
The last bit of snow we had a week ago made me miss my Mexico trip a little bit…so, I whipped up a fresh, fruity salsa with an amazingly ripe and juicy mango.  (So rare in these parts this time of year!)  And I spiced up some shrimp and tossed them into a grill pan.  (I couldn't get to my grill…it was still under several inches of snow.)  AND I whipped up a creamy, fiery chipotle sauce tamed just a little bit with some honey.  Perfect. Combination.
For more delicious recipes, visit me at TheSuburbanSoapbox.com.
Grilled Shrimp and Avocado Tostadas with Mango Salsa and Chipotle Cream

Print recipe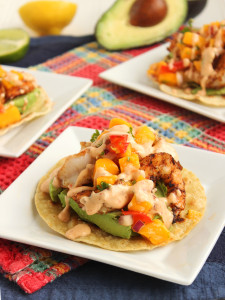 Ingredients
6 6-inch corn tortillas
1lb medium shrimp (peeled and deveined)
1/4 teaspoon kosher salt
1/2 teaspoon garlic powder
1 teaspoon chili powder
1/4 teaspoon fresh ground pepper
1/2 cup low-fat plain greek yogurt (I use Chobani 2% Plain greek yogurt)
1 tablespoon honey
1 can chipotle chile (in adobo sauce)
1/2 teaspoon adobo sauce (from the canned chipotle chile)
1 mango (peeled and diced)
1/2 red bell pepper
1 tablespoon fresh parsley (chopped)
1/3 cup red onion (diced)
juice and zest of one lime
2 avocados (sliced)
Directions
In a small frying pan coated with cooking spray, add the tortilla and cook over med-low heat until lightly toasted and crispy. Repeat with remaining tortillas and set aside.
In a small bowl, combine the shrimp, salt, garlic powder, chili powder and pepper. Toss to combine.
Heat a grill pan over med-high heat, add the shrimp and cook for 2-3 minutes or until bright pink. Turn the shrimp over and continue to cook until no longer translucent. Transfer to a plate and keep warm until all the shrimp are cooked.
In the bowl of a small food processor or blender, blend the yogurt, honey, chipotle chili and adobo until smooth. Season with salt and pepper. Set aside.
In a medium bowl, combine the mango, bell pepper, parsley, red onion, lime zest and juice. Set aside.
Top each tostada with equal amounts of avocado and then top the avocado with equal amounts of shrimp. Spoon the mango salsa on top of each tostada and drizzle the chipotle cream over the salsa. Serve immediately.
Note
You can make the chipotle cream and salsa up to two days in advance.  Store in an airtight container in the refrigerator until ready to serve.