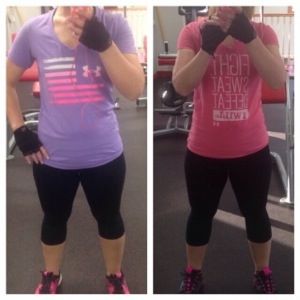 So I've sent in my success story before of my weight loss but I just thought I would follow up.
I hit my "goal weight" almost a year ago but when I hit it I knew I wanted more! Being 5'3 everything says I should weigh 130-140 so I've been trying for a year to get my weight down…during this time, I stopped counting my calories and tried to make better food choices by eating no processed food as much as I can but it slips in their here and there ;) I kept my weight training in and just recently added in a bit more cardio.
The scale never goes down, this whole time it only goes 150-155 and I'm so frustrated so I started meeting with a trainer and he's been tracking my bodyfat, and in three weeks I went from 17% body fat to 16% and down 3.5lbs (of fat) but the scale has never moved. It's been the same!  That means I'm gaining muscle and losing fat!  I feel so great and I finally believe that the scales LIE!!!! Here is a picture of only three weeks in which I went down in bodyfat percentage but not the scale.
I know how success stories keep me going everyday!  Life struggles are always there and knowing the little things can push you through is what its all about!
Thanks ladies for all the inspiration!!!
Melanie
Have an EM2WL transformation to share? Willing to let us tag along on your journey? We'd love to see it! Be featured on our Transformation/Journey page by submitting your story to Success@EM2WL.com