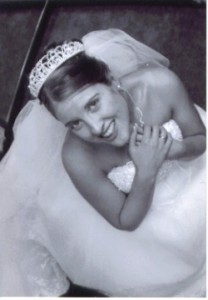 Maintaining a healthy weight is a struggle for me that began in childhood.   As early as grade school I felt that I was the fat girl in the class.  I was ashamed of my body and the fact that my mom had to take me to the "pretty plus" section of the department store to buy my clothing.  I think one moment that has stuck with me for years was the moment when in late grade school a friend told me that her mom had said, "Crystal would be so pretty if she lost weight."  I listened to my grandma telling me how I was "big boned" every time she came for a visit.  Needless to say, early on I equated being thin with being pretty and valuable.  I tried various diets throughout my pre-teen and teen years.  I was not an overly active person, taking on the sedentary lifestyle of my parents.  I did make a few feeble attempts at sports during those years though and that kept me at a size 12 for most of my teenage years.
During college my weight dropped a bit, never as much as I wanted it to.  But all of the walking to classes, cooking for myself, and attending gym classes helped to get some weight off.  However, I could never get the weight to stay off.  It always seemed to come back so quickly.  And every time I lost weight, the amount I gained would take me to a higher weight than I had been previously.
When I started my first job post college I was still far from a healthy weight.  I had the opportunity to work with a personal trainer for a bit during that time.  I learned a lot about strength training and combined that with high intensity interval training.  As far as nutrition, the only instruction I was given was to eat one carb and one protein every meal and to eat six meals a day.  The weight started to come off again.  I became strong.  I was elated that I could do push-ups, lift weights, and run – things I'd never been able to do before.  I felt so wonderful.  I enjoyed getting to wear clothing that I thought was off limits for a body type like mine.  I started to feel more confident.  It's amazing how I felt at that time.  It seemed that the whole world was more positive and kinder towards me.  I was wearing a size 6 clothing, which was a dream come true for me.  During that time I also became engaged to my high school sweetheart. Shortly after the engagement I had to end my personal training sessions.  I continued to work out and keep my carb/protein ratio intact.  I moved back to my hometown to plan my wedding there.  I was busy with the wedding planning and working full-time. I dabbled in my workouts, but was not consistent.  Despite my best efforts to "eat right", continuing to try to eat less and/or the right foods, the weight started to come back on.  I was so frustrated with my body for failing me and starting to gain.  Luckily I'd only gained back about five pounds by the time my wedding day came.  So in spite of the recent gain, I felt wonderful and beautiful on my wedding day.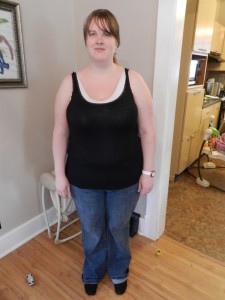 After the wedding came marriage, a new job, moving to a new location, and many other changes.  Despite my efforts to work out and eat right, even a venture into the Atkins diet, the weight just kept coming back to haunt me.  Before I knew it I was up 10, 15, 20, 25, and so on pounds.  This of course led me to a weight higher than I'd ever previously weighed.  The gain stopped at about 180 and hovered.  We joined a gym.  I joined weight watchers.  I'd lose weight for awhile and feel proud of my weight watcher's accomplishment only to "fall off the wagon" and experience yet another gain.  Each time I gained more weight, I felt defeated.  I truly feel like I was trying so hard during this time and yet our culture tends to say that if you're overweight it's because you're not trying and you're lazy and unmotivated.  This did nothing for my confidence or my issues with my body image.  This went on for years.  I had two babies in that time.  The first one was a happy surprise.  The second baby did not come so easily.  The years of yo-yo dieting were taking its toll on my body.  My hormones weren't cooperating.  All of a sudden everything was out of whack.  Finally I was diagnosed with hypothyroidism.  I firmly believe the years of yo-yo dieting may have something to do with my decreased thyroid function.  After getting help for my thyroid, we were able to have our second baby in July 2011.  Once again, after he'd been here for eight weeks I jumped on the Weight Watcher's and workout train.  I lost about 15 pounds rather quickly.  Then after two months of working out, I crashed.  My thyroid function decreased, I became incredibly fatigued, depressed, and overwhelmed.  I put on 40 pounds in 3 ½ months time.  I refused to step on the scale for months because I knew I was gaining.  Finally in mid-February I stepped on the scale.  The number on the scale was an exact match to the number that was on the scale when I was nine months pregnant with my last little one.  I was up to 238.5 lbs.  I about died of shock. And then I became scared.  It was as though I felt my mortality in that moment.  All I could think was this is the way to death.  I realize this may sound melodramatic, but it's honestly how I felt.  I could see heart disease, diabetes, and other such issues lying in wait around the corner.  I decided I was done. Whatever I needed to do, I would do it.  This weight was coming off and somehow I would make it stay off – even if I had to eat piles of broccoli for the rest of my life!  I started a journal that day and labeled the first day as Day 0.  This is some of what I wrote – "Ground 0 is often the disaster site in a disaster movie.  This feels like a disaster.  So day 0 seems appropriate," and also "I've been wearing sweatpants for the last two weeks."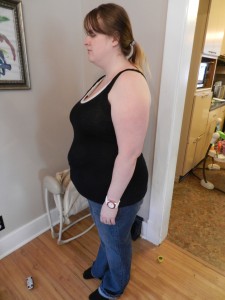 Thus began my current journey.  I called my doctor and got help with my thyroid medication.  After a few adjustments, I felt immensely better.  I immediately started walking, which turned into running, and started logging all of my calories using My Fitness Pal, an online health community for tracking calories and exercise.  The weight started to come off.   Thirty one days into my journey I took "Before" pictures.  In looking through my journal during those days while running and following the recommended calories per My Fitness Pal, the word "tired" jumps out a lot.  I was working at this so hard and my energy was taking a huge hit as a result!  Lucky for me, this phase didn't last long.  On April 2nd, 2012 I found a post on the forums of My Fitness Pal.  The post talked about phrases such as BMR and TDEE and emphasized losing weight slowly.  I knew the minute I read the post that I'd found my missing link.  This was why despite my best efforts the weight always came right back on.  In my effort to keep weight off I'd reduce calories more and more.  My body would rebel and hold onto fat that much more vigorously.  And when I finally lost my resolve and couldn't eat low calorie anymore, my body grabbed everything it could and held on for dear life.  This was the moment that I realized that I'm not overweight out of laziness. I'm not less motivated than everyone else.  I always knew that I didn't sit around and eat potato chips all day long (isn't that the media stereotype of an overweight person?), but now here was the information to back that up.  I was overweight because my body was saving up for the next famine!  It was scary to increase my calories so much – a 700 calorie a day increase!
I've enjoyed being able to eat a good amount of healthy food.  No longer do I have to eat ridiculously low calorie breakfast and lunch just to have enough left over to eat dinner.  I don't have to eat piles of broccoli unless I want to.   I try to make healthy choices of course.  It's important to fuel a body properly, but I do have room for my indulgences of choice – dark chocolate and wine!  Since that day in April, I've found incredible support for this lifestyle through the Eat More 2 Weigh Less group.  I've learned even more about keeping my metabolism functioning well.  After roughly a couple of months I decided to do a full metabolism reset.  So currently I'm eating at my TDEE and enjoying every calorie.  I even had to bump my calories up by 100 halfway through my reset because my weight was still trending downwards slightly.  I'm now eating 2600 calories a day and maintaining my weight.   The end of my reset and start of eating at my CUT was Sunday July 22nd.  I'm looking forward to continuing this journey into the next phase.  I finally feel like I have the missing piece so that this time the weight loss will be for life.
These are the things that are helping me to be successful: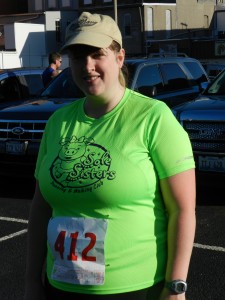 My journal.  I carry it around all the time.  I write my feelings, my workouts, sometimes my current weight and measurements, and my goals.  I find that having a spot to write everything decreases emotional eating.
Online Fitness Tools.  Scooby's Workshop and Fat2Fit are both great sites that helped me to figure my BMR and TDEE.  Also, I use My Fitness Pal for logging food and exercise.  I just manually plug in the numbers I get from Scooby or Fat2Fit instead of using the number that My Fitness Pal generates (which was too low for me).
Online Support.  I found Eat More 2 Weigh Less through My Fitness Pal.  Eat More 2 Weigh Less is my fitness "home".  I have online friends to go to for advice and support.  They understand the concepts and aren't going to advise me to attend numerous cardio classes back to back or slash calories drastically in order to lose weight.
An Activity That I Love.  Many people tout running as the best way to shed fat. Eat More 2 Weigh Less and many other reputable resources say that building muscle through strength training is much more effective than cardio. I understand that the latter is correct. That being said, I love to run.  I run because it's my mental oasis.  Through running I am learning to appreciate my body, the one that I've always viewed with shame.  I have successfully trained for and completed a 5k.  Running across the finish line and receiving my medal was an amazing feeling!  I have a 7 miler coming up and I'm currently working my way through a half marathon training program.
My current goals:
Complete my 7 miler without passing out.  Seriously, 7 miles with two hills in the middle of summer.  What was I thinking?
Complete my half-marathon training program.
Finish my reset and eat at my cut consistently until it's time for a diet break.
Begin New Rules of Lifting for Women's Strength Training program after my half marathon.