I thought I wasn't working hard enough…Emily Zaler Interview on Metabolic Damage
Posted on

August 20, 2013

by

EM2WL
 EM2WL:  Hi Emily! Thanks so much for taking a moment with us.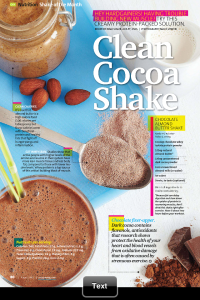 I want to say first and foremost (while sitting here sipping your Chocolate Almond Butter Shake) that I miss seeing your recipes in Oxygen Mag (R.I.P)!  I've never been a huge protein powder fan, but your recipes always spark the desire to break out that tub and get to mixing/cooking, lol.  How'd you feel about the mag closing?  Are there any other places where we can catch sneak peeks of your recipes now?
Emily Zaler:  I was very saddened by Oxygen Magazine closing, as it was looked upon as one of the founding publications for female fitness.  Like most of us, I was shocked by the news, but am truly honored to have been a part of such a legendary publication.  Yes, you can still find my recipes/articles in many other places online.  LA Times Health Section, STACK,  Muscle & Fitness Hers, my personal website, and hopefully some features in other major publications soon.
EM2WL:  Now, you're not just a gorgeous face and a protein powder cooking sensation, but also an amazing athlete (playing college level soccer) and former competitor.  What inspired you to compete?
EZ:  Well thank you…I was first inspired to compete after suffering a career ending soccer injury my sophomore year of college.  I have always been passionate about fitness, and have always loved to train.  I heard about fitness competitions (not even knowing what I was getting in to), and decided that I could use it as a competitive outlet, now that my soccer days were over.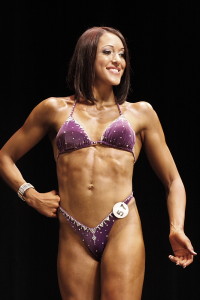 EM2WL: How long did you compete?  Are you still competing now?
EZ:  I competed for about a two year time frame, and am no longer competing.  To be completely honest, I have no desire to ever compete again.
EM2WL: Did you always do Figure or have you competed at multiple levels?
EZ:  I always competed in Figure.  I actually did my first show before the "bikini" category was introduced.

EM2WL:  How many competitions did you typically participate in per year?
EZ:  Over the two year span, I competed in a total of three shows.  Long story short, I ended up having to drop out of the third show before the finals due to suffering health complications backstage.
EM2WL:  Can you describe the weight fluctuations between off season and competition prep? What about changes to your diet?
EZ:  I definitely had weight fluctuations between the "on" and "off season.  In the "Off Season," I'd say I was eating probably about twice as much food as during "prep."  As far as dieting goes, I did everything from Carb Cycling, to Keto Dieting (which is basically no carb). I unfortunately learned the hard way that removing carbs from your diet is not the answer.  Sure, I was seeing results at the time, but long term, it was not worth it.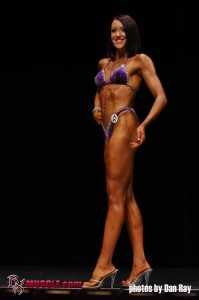 EM2WL:  Can you describe what a typical day was like when prepping for the stage?
EZ:  Man, looking back on this, it all sounds crazy to me (which it was)!  I was still in school at the time, and my schedule was insane.  I would wake up almost every morning at 4am to do fasted cardio, go home and get all my meals ready for the day, be in school all day, head back to the gym to lift after class, do more cardio, then spend my evenings doing homework/studying and meal prepping.  Not to mention all the other crazy components that come along with competing, such as tanning, posing, etc.
EM2WL:  You've mentioned on your website how competing has affected your metabolism.  Were there any signs that led you to discover this?
EZ:  There were definitely signs and major red flags that I chose to ignore for about a year and a half.  I thought it must have been my fault… I had to work harder… I thought I was gaining weight because I wasn't working hard enough… So cardio was increased, and food was restricted…making the problem even worse.  I was eating extremely "clean", training my a** off, yet my results weren't reflecting it. I was extremely low energy all the time, and had trouble sleeping at night.  Finally about a year ago, I started doing extensive research on the subject, and realized that yes it had "happened to me."  It's one of those things that competitors are told about, but for some reason have the ignorance to think it can't happen to them.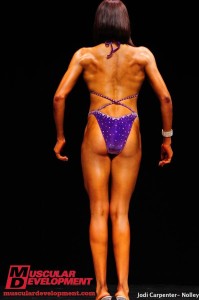 EM2WL:  Can you tell our readers some of the extreme methods you utilized to achieve a 'stage ready' or photo-shoot look?
EZ:  Looking back on these things, truly breaks my heart and gets me upset.  Not just because I was stupid enough to do them, but because I know most competitors/ fitness models still use these extreme methods everyday.  When prepping for shows and photo shoots, I was doing 2 hours of cardio a day, eating almost no carbs, and training 5-6 days a week.  The week before the show or shoot, I would do ridiculous things such as deplete water and sodium, eat all fish and asparagus for a week, and take a diuretic to "drop water."  Ridiculous.
EM2WL:  Were there other areas, physical or psychological, impacted by competing?
EZ:  Absolutely.  If you talk to most competitors or former competitors, they will tell you that there are psychological complexes developed during prep, as well as after the show when trying to adjust to "normal" eating and training.  I struggled with body image for a long time after shows, as well as photo shoots.  You have this vision in your head of you being "stage lean" or "shoot lean," and it's almost like you don't accept yourself if you can't maintain that level of leanness.  Newsflash people, it's NOT healthy to do so.  There were times when I didn't want to go out with friends, go on dates, or even go to the gym, when I was not "stage/shoot lean."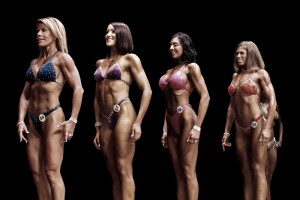 EM2WL:  Do you feel that there are any methods of prepping for Bodybuilding/Figure competitions that don't compromise ones metabolism?
EZ:  There are definitely methods to prep for competitions that don't compromise your metabolism, as well as being a much more well rounded and healthy approach.  In the past year, the subject of "Metabolic Damage" has come to light, and there are finally other methods being promoted besides the "Guru" and "Bro Science" methods.  One of the ways that has become rather popular in the last few months is "Flexible Dieting," also known as "IIFYM" (If It Fits Your Macros).
You DEFINITELY DO NOT NEED TO BE DOING HOURS OF CARDIO A DAY, and STARVING YOURSELF TO COMPETE!!!  If your coach has your plan lined up like that, RUN AWAY as fast as you can!!  Lift heavy, train hard, eat ENOUGH, and add in some HIIT.
EM2WL:  Was there an aha moment where you decided to get out of the business?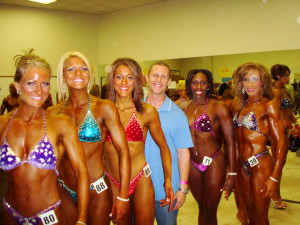 EZ:  The "Aha Moment" came when I finally woke up and realized that my body was responding the way it was for a reason. The fitness industry has a very dark side to it, and I was almost blinded by that when I was competing and modeling. It's almost as if I would do anything to be "lean enough."  It's as if my self worth was related to how lean I was. I cannot tell you the number of women I know who either compete or are former competitors who have messed up their health over such a silly "sport" as competing.  Whether it be physical, mental, emotional, or all of the above.
EM2WL:  What advice do you have for the many women who want to look like a fitness cover model?
EZ:  It's NOT worth it.  Sorry to be a "Debbie downer," but it's just not worth putting your health at risk.  Now, if you go about it in a healthy manner, then I am all for it.  But if you feel like you have to go to extreme measures to do so, it's just not worth it — the risks and health effects that you may have to deal with for the rest of your life.
EM2WL:  Do you think it is a realistic goal for the average woman to have if they are not competing?
EZ:  No, I don't think it's a realistic goal for the "average women" to have.  The "average women" should be focused on being healthy from the inside out.  Exercising, eating properly, and also feeling good about themselves mentally.  Nobody should be comparing themselves to the cover of a fitness magazine. Your self worth is not determined by your image.
EM2WL:  How has your life changed since stopping competing?
EZ:  My life has changed significantly since I stopped competing.  I no longer do ANY steady state cardio (waste of time in my opinion).  I lift hard and heavy about 4-5 times a week, and add in metabolic conditioning and HIIT for my "cardio."  Oh, and I don't restrict food groups and macronutrients.  Eat more food people!  Food is fuel. You need carbs, proteins, and fats.  Anyone who tells you otherwise is crazy.
Mentally, it has been a large pill to swallow. You are used to seeing yourself super lean, and at first it's very difficult not to compare yourself to others.  Also, working in the fitness industry, you are constantly being judged by your physique.
However, I am finally at a place where I feel great about myself. I LOVE being a strong female! I can honestly say that I enjoy being extremely STRONG, more so than I enjoyed being extremely lean. I love feeling powerful. I am proud of my strength, this journey, and where I am today.  Everything happens for a reason, and if I can help empower other women, and prevent them from putting their health at risk, then I feel it was worth it for me to go through this.
EM2WL:  Thanks again for taking the time for this interview.  How can our readers see more from/follow you?
EZ:  Thank you for having me, it's an honor to share my story.  Readers can connect with me via:
EmilyZaler.com
Facebook.com/Ezaler
Twitter.com/TheEZWhey
IG: EZaler
Or email me: TrainTheEZWhey@Gmail.com
Emily Zaler is a Certified Personal Trainer, Certified Sports Nutritionist, Author of The EZ Whey Cookbook, Magazine Columnist, Personal Chef, and Owner of The EZ Whey LLC.  She holds her Bachelors of Science in Exercise and Wellness from Arizona State University. Emily and The EZ Whey have been featured in multiple media outlets worldwide, including Print, Television, Radio Shows, Online features, Newspapers, and Magazines. Top publications such as The LA Times, Chicago Tribune, Oxygen Magazine, Muscle and Fitness Hers, Runner's World, Max Sports & Fitness, Physique Magazine, World Physique Magazine, Extra Fit Magazine, STACK Media, Inside Fitness Magazine, Scottsdale Health, Natural Bodz, and many more, have all featured Emily and The EZ Whey.