Prepped the night before, and baked in the morning, this Overnight Whole Wheat Coffee Cake becomes a go-to for holiday brunch or overnight guests.  This streusel-laden delight made with all whole wheat pastry flour,  provides a fiber boost that your guests will love with their morning (or afternoon!) coffee. 
Overnight Coffee Cake

Print recipe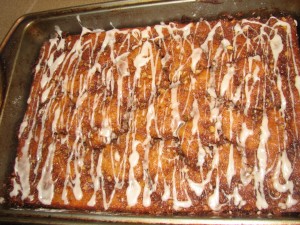 100% whole wheat coffeecake with cinnamon, brown sugar, pecan streusel and vanilla glaze. Prepared the night before, & baked in the morning creating ease for overnight guest entertaining, or holiday brunch.
Ingredients
3 tablespoons organic unsalted butter (softened (or solid coconut oil))
3 tablespoons organic unsweetened applesauce
1/2 cup evaporated cane juice crystals
1 Large egg
4oz nonfat Greek yogurt
1 cup white whole wheat or ww pastry flour ((slightly pack the cup if using pastry four))
1/2 teaspoon baking powder
1/2 teaspoon nutmeg or cinnamon
1/4 teaspoon salt
1/2 teaspoon baking soda
Streusel
6 tablespoons Sucanat
1/4 cup chopped pecans / walnuts
1/2 teaspoon cinnamon
Glaze
1/2 cup powdered sugar (sifted)
1 1/2 teaspoon water
1/4 teaspoon vanilla extract
Directions
Combine butter and sugar; cream until light and fluffy. Add applesauce, egg and yogurt; mix well.
Combine next 5 dry ingredients; add to batter and mix well. Pour into greased and floured 8x8 pan.
Combine Sucanat, nuts, and cinnamon; mix well and sprinkle evenly over batter.
Press nut mixture into the batter with spatula or fingers.
Cover and chill overnight.
Uncover and bake at 350 degrees for 30-35 minutes.
Combine glaze ingredients and drizzle over warm cake.
Note
Prep time includes overnight chilling.
Nutrition (for 1/9 of recipe):
Calories: 219, Total Fat 7g, Sat 3g, Poly 1g, Mono 2g, Cholesterol 11mg, Sodium 175mg, Potassium 43mg, Carb 39g, Fiber 2g, Sugar 8g, Protein 3g