It seems like each year moves quicker than the last. There is never enough time to get all the things done on our task list.  Each day runs into the next, and if we aren't careful, our nutrition takes a back seat to convenience.  That's where healthy convenience foods come in handy.
I experienced this firsthand over the past year when work stress was at an all-time high. I was mostly concerned with just getting enough sleep. My nutrition stayed intact by focusing on eating foods that didn't require much time, effort or thought, but were still nutritionally balanced.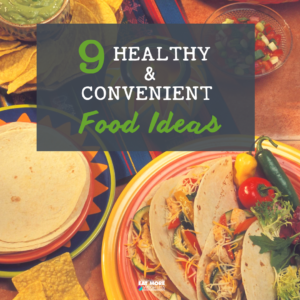 When you think of convenience food you may conjure up images of Hungry Man or fast food restaurants like McDonald's.  Thankfully, there are way better options available if you keep a go to list and put in just a smidgen of effort.
My definition of a healthy yet still convenient meal is one that requires minimal effort to prepare, can be assembled in 15 minutes or less and is nutritionally dense and balanced.  Although it may require a little bit of energy to assemble, it won't require any special cooking skills or even a measuring cup!  If I can't spare 15 minutes out of my day then I have to rethink what I'm doing.
All convenience foods aren't created equal and some things to be on the lookout for are foods that are high in sodium, sugar, fat or all three!  Many frozen foods that are fully prepared like Hungry Man or foods cooked in a sauce are often offenders.  Assembling your own food will help you avoid the high sodium-sugar-fat trap.
Let's get…assembling!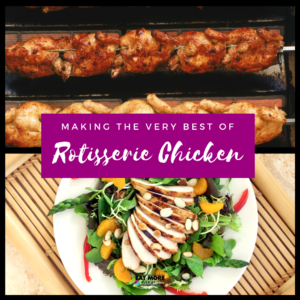 A great place to start is with your protein.  I like to think of protein as the super star of the meal and work everything else around it. Nowadays, there are so many pre-cooked protein options that you can really set up a great rotation. Rotisserie chicken , grilled chicken (refrigerated or frozen) or fish (fresh or canned i.e. tuna, sardines, wild salmon) are just a few options.
Likewise, there are many pre-cooked carb options available – frozen, refrigerated or canned.  A few to consider are quinoa, rice varieties including brown, white, jasmine and more, lentils, canned beans.  With these options it's just a matter of heat and serve.
When it comes to veggies, the options are seemingly endless.  You can buy them fresh, frozen or canned.  For even more convenience, buy them pre-washed, pre-sliced or pre-chopped.  You can find them stand alone or as part of a medley.  You can even find them in microwavable bags where you only need pop them directly in the microwave for 5-10 mins and then plate them.  The point is, when it comes to veggies, skipping out on them for the sake of convenience is hogwash.  Keeping dishes flavorful, however, is key, so consider picking up seasons such as garlic salt, lemon pepper or Cajun to keep your taste buds happy.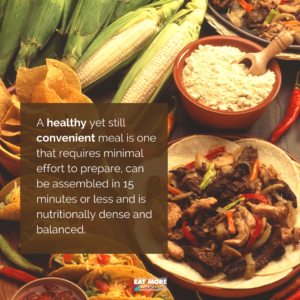 Of all the convenience foods, fats are the most readily available.  Adding a tablespoon or two of your favorite oil to your foods or sauteing veggies in a pat of butter  is a no-brainer.  Same thing for avocado, just cut and scoop!  Eating a fatty fish rich in Omega-3 like salmon will serve double duty, providing both protein and fat for your meal.
To keep things less stressful, be sure to keep some of these foods on hand to make answering the question of "What's for dinner?" a breeze.
Putting it altogether
Now that you have a few ideas of some convenient staples, here are a few ideas on how to put together a meal.
Rotisserie chicken, skinned & chopped + jasmine rice + broccoli slaw + dressing
TJs Lightly seasoned chicken breast + lentils + asparagus
Tuna + broccoli + avocado toss
Broiled tilapia (10 min) + vegetable medley + low sodium butternut squash soup
Broiled salmon (10 min) + mango salsa + green peas + brown rice
Tacos – browned ground turkey (10 min) + salad + avocado
Eggs/onion/mushroom/spinach scramble + Ezekiel bread + almond butter
Rotisserie chicken, skinned & chopped + broccoli slaw + wrap + dressing
Baby spinach + chopped grilled chicken + sliced peppers + quinoa + olive oil + balsamic vinegar
There are so many options that you can create with a few staple ingredients. Just mix things up or change out the seasonings.  With all of the options available to you, it's possible to have a new meal every day for a month if you wanted to.
You don't have to sacrifice your nutrition for convenience and you don't need to be a star cook.  With slightly more effort than it takes to warm up a hungry man, you can have a meal that takes less time and is more nutritious!  Many meals will make 2-4 servings, so you'll only need to re-heat them the next day.  One less meal to worry about!