Need some help hitting your protein goals without meat?  Try this protein and fiber packed vegan version of a Mexican favorite – Quinoa Stuffed Bell Peppers.   Meat lover?  Just add ground beef!
Quinoa Stuffed Bell Peppers

Print recipe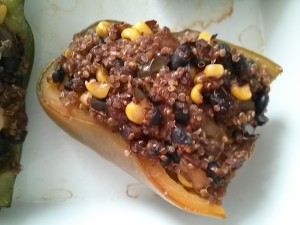 Ingredients
2 green bell peppers (tops cut off, sliced in half lengthwise and seeded)
2 cups water (for blanching peppers)
1/2 cup quinoa (uncooked)
5/8 cups broth (to cook quinoa)
pinch salt
1/2 tablespoon olive oil
1/2 Small red onion (diced)
1 clove garlic (minced)
1/2 can black beans (drained)
1 tablespoon salsa
6 tablespoons corn
1 green onion
1/2 teaspoon chili powder
1/2 teaspoon oregano
1/2 teaspoon cumin
1/4 teaspoon cinnamon
2 tablespoons golden raisins
1 1/2 dried figs (chopped)
1 tablespoon cilantro
Optional
Directions
Put quinoa and broth in a saucepan and bring to a boil. Simmer on low for 20 minutes. Remove and place in a mixing bowl.
Preheat oven to 350°.
Bring 4 cups of water to a boil. Blanche the pepper halves for 2-3 minutes. Remove and immediately submerge in cold water to stop the cooking process.
In a saucepan, saute onions, garlic and chopped bell pepper tops.
Add rest of ingredients and cook until warmed through.
Fluff quinoa when it's done and add to saucepan with everything else.
Stuff peppers with the mix. Put in an oiled baking dish. Add a few tbsp of water to the bottom of the baking dish.
Bake at 350 for 15-20 minutes depending on the size of your peppers and how much they cooked when they were pre-boiled. They should take no more than 15 minutes for smaller peppers. If you stuffed the peppers raw, they will need to bake for 30-40 minutes.
Note
SOME ITEMS NEED TO BE PREPARED AHEAD OF TIME.   Optional items: olives, chick peas, cheese, nutritional yeast.
Nutritional Info:
Calories 335.4 Calories from Fat 36 Total Fat 4.0 g Saturated Fat 0.5 g Cholesterol 0.0 mg Sodium 73.2 mg Total Carbohydrate 62.6 g Dietary Fiber 14.1 g Sugars 7.6 g Protein 15.9 g