Today marks 365 days of logging into MFP.  I haven't missed a day so it was exactly 1 year ago that I decided enough was enough, got my a** into gear, and changed my life.
Let me back up a bit and explain what led me to that point (but feel free to skip to the pics)
I've struggled with weight all my life.  About 7 years ago though, I was put on Phentermine and lost about 30 lbs.  For one all too brief year, I enjoyed being skinny (I wasn't in the least bit fit) but after I got married, I got lazy and gained all that weight, and a hell of a lot more of it back.
April 2012, I went to India for 3 weeks on a business trip.  During the trip I met many amazing people.  One of their favorite things to do was to take pictures, chuckle about how white I was compared to them (I'm Irish-Scottish, I can't help it), then post the pictures up this side of Facebook and down the other.  One night after work, I was back in my hotel room logged into Facebook, and I got an eyeful of just how viral these pictures went… I cried myself to sleep that night and a couple more nights following.  Here are just a few of them…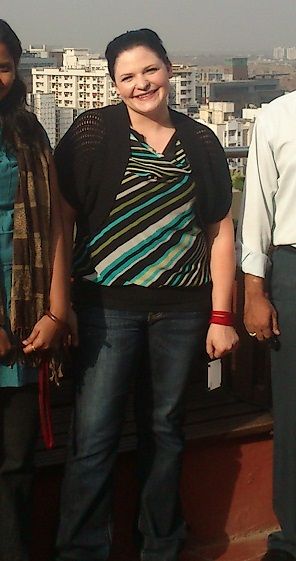 After this, I cancelled my FB account so I wouldn't be face to face with reality and went on with life.
I got home from India May 5th, 2012 but it took me until May 30th to find and get on MyFitnessPal. Once I did join though, I joined with my full heart. I am lucky enough to have an amazingly supportive husband who when I flipped our lives upside down in pursuit of a healthier life and weight loss, he just said "Okay, what can I do to help?"
I started out with the 1200 calories MFP allotted and lots and lots of cardio. Then I found the group Eat More 2 Weigh Less which had me doing just that.  I figured out my TDEE, subtracted 15%-20% and got heavily into weightlifting, starting with the program in the book New Rules of Lifting for Women.  After I finished that program, I moved on to Cathe Fredrich's STS and am currently in the middle of my 2nd round.  I absolutely love it and the results are freaking awesome.
I was also very fortunate to develop the best friends list on MFP.  I freaking love you guys.
Here are a few things I've learned along the way that helped me succeed….
1. The scale is a dirty rotten liar and cannot be the only method of tracking progress.  I learned to check and monitor progress by how my clothes feel, how I look in the mirror, pictures and measurements, and not just by the reading on the scale.
2. Setting and sticking to a rigid pound goal didn't work for me.  I originally set my goal to 120 lbs which, come to find out, isn't what I want because to get there, I would either need to fall into the low teens in BF% or sacrifice lean mass (no thank you).  Instead, I've focused on a goal BF% of between 18-20% which using the ideal body weight calculator on Fat2FitRadio.com, gave me a pound goal of 130.  I started back in May of last year at around 35% Body Fat or more (I'm guesstimating).  Today, I'm happy to report after getting my BF% tested in a BodPod, I'm at 20.9%.  I'm so close I can taste it.
Here are how a few of my measurements changed:
Natural Waist = 36.5 to 26.5 (- 10 inches)
Thigh = 25.75 to 20.25 (- 5.5 inches)
Chest = 37 to 31 (- 6 inches)
Hips = 43.75 to 31.75 (- 12 inches)
Bicep = 13.5 to 11.25 (- 2.25 inches)
3. I don't have to starve to lose weight. Thank god because I have a very VERY healthy appetite.  I'm very grateful I found EM2WL only a few weeks after deciding to change my life.
Okay, enough blabbing. Here are my progress and NOW pics!
This first one is 25 lbs down…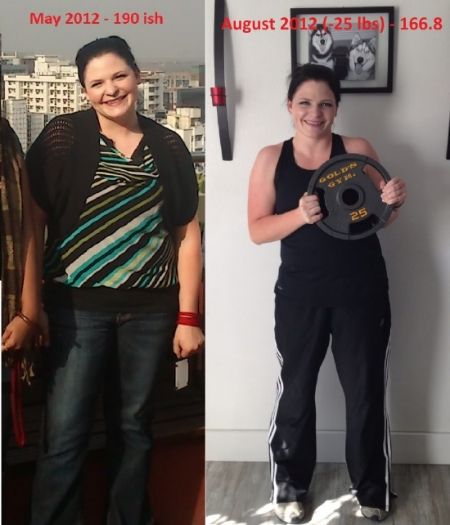 This one is 36 lbs down, what I thought at the time was my ½ way mark…

This is a difference of 50 lbs… and the pic on the right is somewhere around 35% body fat, the pic on the left is 24.5% body fat…

This is 60 lbs lost…

These are a couple tummy comparison pic from about when I started to this past weekend.
And here are a few more now pics just for fun :)

I remember just starting out and spending a lot of time looking at others success stories. I hope this provides motivation for someone somewhere to not give up, to keep going, to get it done, like so many success stories did for me.