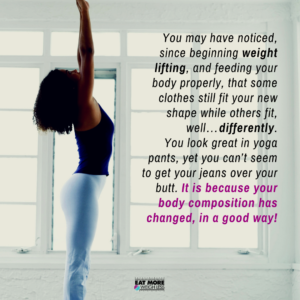 You may have noticed, since beginning weight lifting, and feeding your body properly, that some clothes still fit your new shape while others fit, well…differently.  You look great in yoga pants, yet you can't seem to get your jeans over your butt. You look great naked, but when you put on those shorts your thighs look like… "quadzilla??" Perhaps you weigh the same as you did before, or maybe you've gained a few extra pounds. A quick measurement check reveals that though you have lost inches in some areas, you've actually gained inches in others.
Is this supposed to be happening?
The answer is: Yes. It is because your body composition has changed, in a good way!  Body composition is the proportion of fat, muscle and bone that make up the body. It is measured by the percentage of body fat and the percentage of lean body mass that you have. Resistance training along with an appropriate calorie intake, and proper macronutrients is the foundation of these amazing changes.
When I decided to make fat loss my ultimate goal — by adding resistance training to my workouts — I assumed that meant I would automatically fit into a smaller size.  I slowly saw the changes to my body in the mirror and I loved what I was beginning to see. I embraced the slimming in some areas and the new curves in others. But when I went shopping for new pants, I would get discouraged. The sizes and styles that I tried on, thinking they should fit…didn't. The smaller sizes were a little too tight in the hips, the larger sizes were too big in the waist! When I tried on shirts, some were tight around the biceps while others were tight across the back and chest.
But I didn't give up.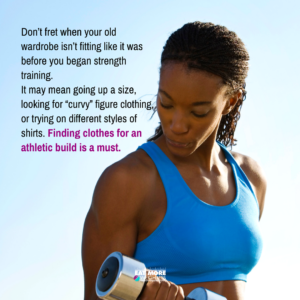 As I continued to try on different styles, sizes, and designers, I finally found a rack of designer pants that made classic, straight, and curvy fit. Yay! I chose one of each cut, in 2 different sizes. The curvy pant was made just for me. I turned from side to side admiring how awesome I looked and felt.  But soon reality hit…
It was one size larger than what I thought I should be in. I found myself depressed over a number some guy put on a label inside a pair of pants. Shame on me!! I loved the way I looked and felt.  I decided that it was time for me to ditch the number on the label in my pants like I did the scale!
So don't fret when your old wardrobe isn't fitting like it was before you began strength training. Look for a designer that makes clothes for your female figure. We really need to stop buying clothes made by designers who think women are shaped like 12-year-old boys. It may mean going up a size, looking for "curvy" figure clothing like I did, or trying on different styles of shirts, but finding clothes for an athletic build is a must.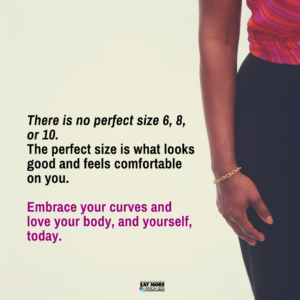 If you have been in the department stores lately you will also see beautiful long skirts and palazzo pants in gorgeous fall solid colors and prints that are perfect for figures between sizes. Many of these have elastic waistbands that will fit as you continue to lose fat, so you won't have to buy smaller sizes! It's important to choose clothing that not only looks fashionable, but also feels comfortable!
Remember, there is no perfect size 6, 8, or 10. The perfect size is what looks good and feels comfortable on you.
Embrace your new curves and love your body, and yourself, today.