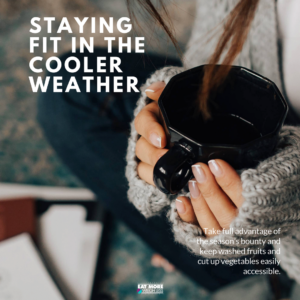 The fall foliage will soon transform leaves to beautiful colors from vibrant yellows to brilliant reds.  Favorite fall sweaters and boots are making a reappearance. Parents are doing the fall-sports-hustle, shuttling kids to and fro for their various activities. Before long, the holiday season will be in full swing and with it the usual family-gatherings and seasonal baked goods. As we say good bye to bathing suits in favor of cozy knit sweaters, it's easy to fall into a comfort level with ourselves.  Don't allow the seasons to dictate the level of commitment you make to being and living healthy.
Maintaining Consistency
By maintaining good healthy habits year round, you won't have to scramble come spring to drop unwanted inches or pounds in anticipation of bathing suit season. While many of us will be bulking (with which weight gain is expected), don't let that be an excuse to over indulge.  Maintaining healthy habits year-round is the best thing to do for consistency (and your body will thank you for it!). So what are some things you can do to stay on track even as the temperature takes a dip and the clothes pile on?
Find an indoor exercise you love
If outdoor exercise is your thing, you probably already work around the weather from time-to-time.  However, when the temp dips for an extended period, having an alternative plan or program is a must. Consider exercise DVDs or online training for more options. The idea here is to banish your excuses before they have a chance to come up!
Have a backup plan
Sometimes Mother Nature wins. No matter how on-top-of-it your city is, snow and ice can result in street and gym closures. String a few big storms together and your training can be sidelined for days or weeks. Have a backup plan in case this happens to keep your training on track. Perhaps you can purchase equipment for home or have access to a nearby friend's home gym. Get creative!
Stock up on fruits and veggies
While this is a good rule of thumb any time of year, it is most important during months when the sweets are EVERYWHERE. Take full advantage of the season's bounty and keep washed fruits and cut up vegetables easily accessible. This makes them more appealing and convenient to eat. Next time you reach for a just-baked sugar cookie, perhaps you can satisfy your sweet craving with a flavorful fruit instead.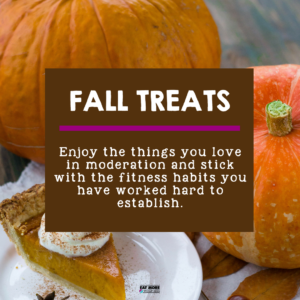 Seasonal happenings are certainly something special and cause for celebration.  Fall flavored coffees, apple crisps and even pumpkin flavored beer are out and Mother Nature is preparing for winter. As with all seasons, enjoy the things you love in moderation and stick with the fitness habits you have worked hard to establish. Don't fall victim to the cold weather slow down only to be in a frenzy during the spring thaw.
Prepare to succeed and succeed you will!