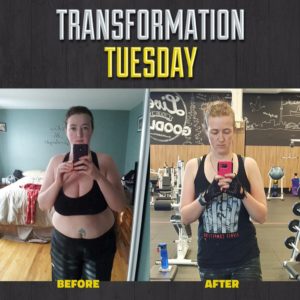 Thank you for considering me to share my story with the world or whoever will read.
My story has been full of ups and downs. A lot of trial and error, tears and a lot of frustration. But without that it wouldn't have made me the person that I am today.
I wasn't always a bigger girl growing up. I actually used to get made fun of for being too skinny. But, with time, I ended up putting the weight on and totally losing control of it. I ballooned up to 230+ pounds. My doctor told me I was getting close to being pre-diabetic. So I knew right there and then I had to do something about it.
And this is where the frustration began.
I started off doing weight watchers, and then moving to Curves, and then joining a local gym which I was not happy at. Didn't help that I had no idea what I was doing. At that point in time I was frustrated with seeing no progress and decided just to give up.  I was sad and depressed. Avoided looking in the mirror and was disgusted having to shop in the plus size in all the stores. Nothing that I used to wear fit. Started wearing men's clothes because it would hide a lot of my shame.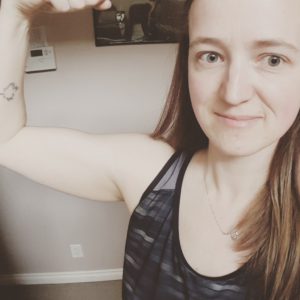 Then in 2012 a Snap Fitness opened up down the street from me which ended up saving my life and kick started my love of fitness. I started going everyday nearly two or three hours and eating very little. About 1200 calories a day. Yup got caught up in that cycle. Sure I lost weight. And before I knew it I was under 200 lbs. Took me a few years to go from a size 24 to a size 12 but had been logging my food with myfitnesspal since 2011.
Then the nasty bought of plateaus hit.
Frustration grew.
I found eatmore2weighless through the forums on myfitnesspal and started to apply it to my daily routine. I knew that with the amount of work that I was doing that I was just simply not eating enough. For a few years I went back and forth from eating 1200 calories to 1700 calories. If I didn't see the pounds move then I would cut cut cut.
Which brings me to a couple months ago (April 2016) when after all the frustrations finally piled up I said to myself that I'm going to start eating more especially with doing heavy lifting 4 to 5 days a week. Looking at progress pics I can see myself leaning out and toning up even though I'm the same weight as I was in September 2015.  I've gained a lot of self confidence over the years and have done a lot of reading and research that I feel confident enough to take a personal training course so I can help others on their journey.
I don't know where I would be right now if I didn't find EM2WL. I look forward to see where this journey takes me.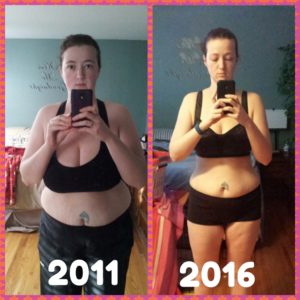 Read more of Crystal's journey here.