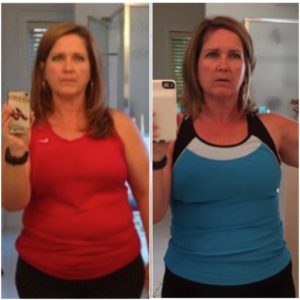 An update to My Journey (so far)…
I ended last with finishing up the EM2WL Beginner Strength Training Manual for 12 weeks and prior to that, I did Cathe's Muscle Max for 6 weeks.  I started (seriously) on 1/1/15.  At the end of both programs, I had lost 10 lbs and 10.5 inches total.
I started back doing Muscle Max, Slow & Heavy and walking our garden track.  I started STS on 1/24/16.  I'm not sure if y'all have ever done STS before but in Meso 1 that woman LOVES pushups!!!  Like, seriously…I can't do pushups on my toes and I have to do them on my knees.  Well, I got "creative" and decided to put extra towels under my knees to have even more cushion.  BAD IDEA!!! I totally messed up my knee!  I haven't been able to do lower body exercises AT ALL since!  I went to the doctor and was diagnosed with Patellafemoral Pain Syndrome as well as mild/moderate arthritis.  Thank goodness the week I injured my knee was the last week of Meso 1.  So I had an active rest week (which I couldn't be active at all) then I started Meso 2.
The whole knee thing put me into a tailspin with regards to my diet/calories.  I was eating at 15% cut during Meso 1 which was 1890.  So during my rest week and when I started Meso 2, I checked my TDEE on Fitbit because I was just maintaining.  To my shock (which, in hindsight is shouldn't have been a shock) my TDEE had dropped quite a bit because I wasn't getting my steps in…DUH!!!  So, grudgingly I lowered my calories to 1676 (yes I'm totally spoiled with eating all the food on this diet).  But you know what, it wasn't hard at all!!!
I have to admit, I was so down because the doctor restricted me to no lower body for 2 weeks (which was at the beginning of Meso 2) the "old me" tried to make a come-back and I was ready to just stop doing anything.  But Anitra suggested/told me to just do the upper body workouts, there was no reason to stop doing everything!!!  Thanks so much Anitra!!!  I just started walking again but I'm still restricted to just walking for the next 4 weeks…then I can slowly add lower body exercises using just my body weight…so I'm still in the healing process, but I'm getting there!
I lost 6 pounds and 7.5 inches just in my first month of STS!  There's one thing that I've learned through all of this…the scale isn't nearly as important as it used to be.  I'm more concerned with inches lost than pounds lost.
Since starting this new lifestyle a little over a year ago, I've lost 19.5 lbs and 25.5 inches!!!  I've gone down two sizes in jeans (16 to 12).  I'm so excited!! This journey so far is beyond rewarding.  It's a slow and steady pace, but I'm eating food and I'm not starving!!!  More importantly, I'm starting to see the changes in my body/taking shape.  It's almost like I'm looking at someone else's body at times.  If that makes any sense… Like I look in the mirror at my side view and my butt is perking up and getting a nice roundness to it!  I can see it, not so much anyone else yet, but it's there and it's gonna "bust out" someday soon!!! LOL  My confidence is coming back…slowly, but it is.
I just can't express how much this lifestyle has changed my life and my outlook on food and fitness.  My only regret is that I waited so long to realize the smart way to do it!!!! But I don't dwell/beat myself up to much about it… won't do me any good.  I'm just spreading the word to anyone who asks and will listen.  As a result, I have introduced a dear friend to EM2WL who was on WW for years and totally frustrated and after a reset and now at cut, she's lost 12 lbs in 9 weeks! And she has her boyfriend on it too and he's knocking it out of the park too!!!
Currently, I have finished STS and have started Jillian Michaels Body Revolution.  I will not be taking measurements or weighing myself any time soon.  You see, down here in the South, the humidity is nasty and I have edema in my hands and legs/feet.  I'm finding that it could be hormonal/aging.  I've had to put the scales away because I'm weighing between 3-7 lbs heavier.  That is very difficult for me as I'm a scale addict.  But the reality is, I have to put it away in order to maintain my sanity.
The message I'm trying to get across to everyone is just hang in there, it will happen.  You may have setbacks that throw you off track, but do what you can and stay the course. That's the beauty of this – if I can do it, you can too!!!