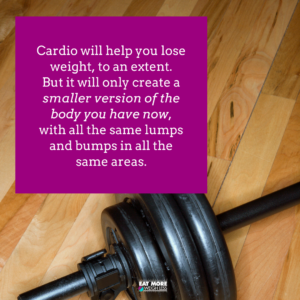 A lot of people ask should an overweight person lift weights, or should they wait until they're smaller.  A common misconception is that the bigger you are, the more extreme measures you need to take (bigger calorie deficit, higher amounts of cardio, etc).  The thinking is that you should wait until you look like the people that are lifting, before you join in.
Extremes are overrated. Don't believe the hype.
Should an overweight person lift weights?
Cardio will help you lose weight, to an extent. But it will only create a smaller version of the body you have now, with all the same lumps and bumps in all the same areas. You will shrink, but your body shape won't change. If you lift heavy; however, you will manipulate your body in such a way that it will not only shrink, but also change shape.
Now remember, the definition of heavy varies person to person. My heavy is going to be different from your heavy. The key is to challenge yourself, within your limits. You should be able to lift increasingly heavier as you progress through the different lifting stages. This is an excellent time to challenge yourself, lifting as heavy as possible — the bigger we are, the more power we actually have to push more weight. Challenging yourself by increasing weight will push your metabolism through the roof.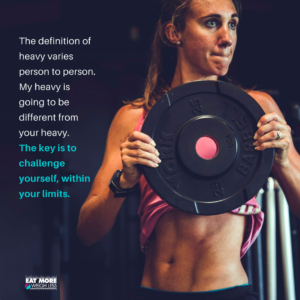 With lifting, you can actually get more done in less time because your body doesn't have the same opportunity to adapt as it does when doing cardio. When your body begins to adapt, the only solution is to keep pushing it to the limit. A limit that keeps moving further and further away means longer and longer workouts. But when you lift, all you have to do is to increase the poundage. You don't have to add more time to your workout. More productive in less time. Isn't that something we all want?
So don't be intimidated by the thought of lifting "heavy." Heavy is relative, but you definitely want to start lifting as soon as possible. Start with what you're able to lift and work your way up. Heavy two weeks from now should be different than heavy today. There was a time when 7 or 8 pounds was heavy for me! But I kept increasing, and in turn, I gained strength. If you don't increase, your body will adapt, and stop changing. The initial toned look from your first few weeks of a new workout will become softer.
Your body needs the challenge in order to keep morphing into the body you want and deserve.
Looking for a new challenge to your workouts? Try out our EM2WL Training App!