When it comes to fitness gadgets, one of the most popular items is the heart rate monitor. Heart rate monitors can be a great way to track calorie burn, and measure recovery levels during overly-stressed periods — but they are not always the best in every workout situation. In fact, when it comes to lifting, Heart Rate Monitors are not accurate for lifting.
Heart Rate Monitors are not accurate for lifting
If you jump on a cardio machine for a half hour workout, you'll notice a spike in calorie burn. If you spend the same amount of time doing a lifting routine, you'll notice you don't burn as many calories as you did in your cardio session. So cardio is the obvious winner, right?
Not quite.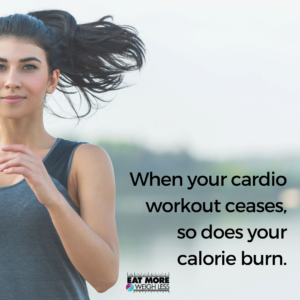 When it comes to lifting weights, the bulk of the calorie burn comes in the EPOC (afterburn).  Afterburn, as the name suggests, is the period of time after your workout concludes in which your body's metabolic rate is much higher than normal. So while you may burn fewer calories during the initial lift, you burn more overall in the hours/days following due to boosted metabolism. On the flip side, when it comes to cardio, what you see is what you get. This means is that when your cardio workout ceases, so does your calorie burn.
This can put heart rate monitors at a disadvantage when it comes to lifting, because they can dissuade "burn addicts" from strength training. Being addicted to the burn often causes people to place more focus on cardio than necessary, because they love to see that number spike during workouts. And I get it. We all want more bang for our buck – but when we let an initially low number on our heart rate monitor dissuade us from lifting, we're heading down the wrong road.  Because muscle is the key to a healthy metabolism and high quality of life, we can't count on the number of calories burned during the workout to tell us how well we're doing.
The type of workout, doesn't immediately correlate to the burn that your HRM will show. This is true not only of weight lifting, but also with different types of cardio, as with HIIT/interval type workouts. Longer cardio sessions may show a higher burn than short, quick, HIIT style workouts. Circuits may show a higher calorie burn that lift/rest/lift style training.  The key is to understand that both weight lifting and interval type workouts (anaerobic) lead to building (and keeping) more muscle than their alternatives.  As you continue to build more muscle, your resting metabolic rate continues to increase (think more calories burned simply by sitting on the couch! Yeaaaahhhhh!).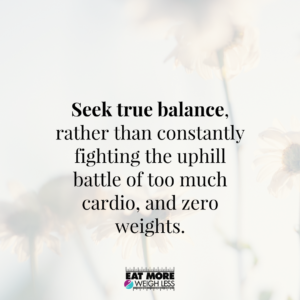 If you're attached to your heart rate monitor, have no fear. The key is to make your heart rate monitor work for you – use it during cardio to gauge effectiveness and adaptability and keep in mind that wearing it during lifting isn't going to give you an accurate result.  If you're bent on trying to get a more accurate number, you can look into adding something like a Fitbit to your arsenal, which will do a slightly better job of helping you understand how to properly fuel your body.  Just be sure to note that when it's all said and done, even these "more accurate" devices typically underestimate the amount of cals burned. So don't use either as an excuse to undereat. ;)
Keeping the limitations of your HRM in mind will help you to continue including the workouts that are giving you the most return on your investment, while sprinkling in moderate doses of activities that you love.  Seek true balance, rather than constantly fighting the uphill battle of too much cardio, and zero weights, to the detriment of your fat loss goals.
Remember: "cardio for fun, weights to transform!"
~Kiki