I've struggled with disordered thinking, eating, and body image for most of my life.  I grew up understanding that "success" meant being thin and "failure" meant gaining weight… and since I was overweight or obese through all of my growing up years, my self-image was pretty bad.  I've experienced each of the three major eating disorders over the years, most recently 2-3 years of anorexic behavior that left my body in self-destruct mode.  After running a half marathon in January things just started falling apart.  I had several injuries to my feet and knees, as well as other concerning health issues.  I was running almost 40 miles a week, exercising the other days, and netting probably 500-1000 calories a day – and consistently gaining weight.  I was pretty sure my body was incapable of being normal.  I was terrified to stop running or eat more.
Still, I wanted to do what was "right."  So I gathered a team of people (some professional, and some for moral support) to tell my story and seek help.  The most confusing and challenging "help" was with a medical and sports nutritionist, who kept telling me to eat MORE and increase my grains & proteins!  She said my metabolism had tanked, but I just didn't get it.  I REALLY wanted her way to be the answer, though.  I believe God is generous and life is to be enjoyed fully, so I really wanted to discover that eating ENOUGH and not feeling hungry, weak, and sick all the time was the answer!
I was determined to listen to the nutritionist's advice, since she has 25 years of experience in the field and is a runner herself.  And even though it was scary and hard, the more I followed her advice, the more pleased she was with the results of the body fat and muscle tests I'd take every time I visited her office.
Personally, I wasn't seeing or feeling results.  I was still training for my next half marathon (September) and gaining weight, fighting to understand the logic of what I was being told to do.  I did run the half marathon in September, and finished slow and exhausted.
Out of desperation after the race, I decided to search the web for "metabolism reset" – everyone I knew who had done a reset had gone on some sort of juice fast, then slowly added other foods back into their diets.  This seemed like torture to me—but like I said, I was desperate to be able to eat without gaining.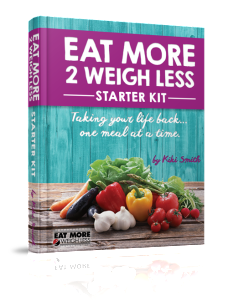 Funny enough, every resource I discovered when I Googled "reset" was about eating MORE.  I learned what BMR and TDEE meant.  And when I landed at the EM2WL website, and started reading, it was like everything the nutritionist had told me to do was being explained fully!  It all just clicked together (not to mention, a VERY WORTH-IT e-book is a gazillion times cheaper than a professional sports nutritionist).
So right now, I'm 6 weeks into the full metabolism reset and I just finished Meso 1 of the Cathe STS series.  I don't have much to crow about, YET – as far as results go.  Although I've definitely noticed that some of my muscle definition is coming back, and I feel SO MUCH HEALTHIER.  I'm not exhausted.  I'm not starving.  I don't love what I see in the mirror, but at least mentally, I'm at the point where I'd rather feel this way and never look in a mirror again, than be skinny and sick.  It's a walk of faith at this point, but it's a walk I want to take.
Plus, focusing on weight lifting helps fill the void of running, which I've had to almost stop because of my knee.  My hope at this point is to enjoy a winter of joyful TDEE eating, heavy lifting, and getting healthy.  Then I plan to train for a half marathon next spring (one that I had planned to run this year but was injured).
The best part of it is, I do have hope!  I'm 37 years old, and for the first time since I was six (when I was put on my first diet), I see that I have a wonderful body that takes good care of me when I care for it.  It wasn't my body that was betraying me all along.  It was the very destructive paradigm that skinny = acceptable.
Thank you ladies so much for what you're doing.  If I get a tank top, I'll wear it in my race next spring.  (:
~Kyle