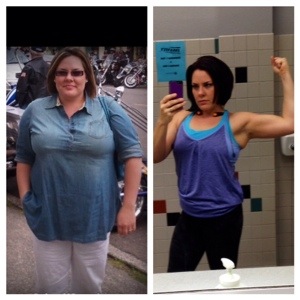 All my life I was overweight which turned into obesity in my adulthood. To make matters worse, I had a very sedentary lifestyle.  I never exercised, never even played sports.  It was a bad combination which seemed to culminate in depression and a terrible body image.  In June 2011, I decided to take control.
Over the past 2.5 years, I have tried many different paths to weight loss and fitness.  It was fun at times, and other times it was miserable.  What it came down to is everything I did, everything I ate seemed to have to point to weight loss or a better body which left me in a constant state of stress and being unsatisfied with myself.  With time, patience and a big case of the need-to-know's, I feel like I have finally arrived at a comfortable, happy, strong place in my life.
I've spent the past year focusing on lifting after an injury sidelined me from marathon training.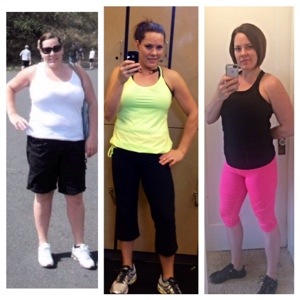 I was devastated, but I did like lifting, so I thought it would be a good transitional fitness plan. Little did I know that while I was healing, I was catching a fever for strength! I thought I loved running… but the way I felt about running can't even compare to the way I feel about lifting. I gave up endurance running and my dabblings in strength training, and decided to make lifting "my thing."  I had to get over my fears of giving up the cardio, I also had to get over my fears of TRULY eating to maintenance, and in the process, I quit taking "progress pics" every few weeks.  I started looking WITHIN and making changes to match my inner desires and quit looking at it as a means to an end goal of aesthetics.
Suffice it to say, this brings us to today. Well, maybe not literally today, but you know what I mean ;) On Saturday November 30th, I competed in my very first powerlifting meet. It was one of the most rewarding and amazing experiences in my fitness journey to date! I went home with the first place gold medal for my weight class and the biggest grin you can imagine. I am so excited for my future in this sport.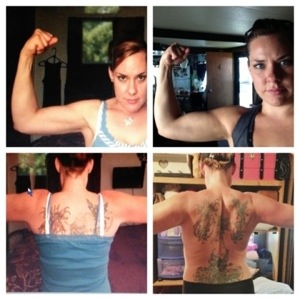 One thing that I never imagined would happen is that my husband is supremely proud of me and takes every chance he can to brag on me. This is a man who does NOT lift, but is very fit and obviously secure in himself!  He loves that I am strong, capable and most of all doing what I love to do.  He is constantly telling me how sexy I am, and how lucky he is to have me… and after 11 years of marriage, this is pretty precious.  I believe it's the confidence I now have.  Doing what I love doing and being confident must make me more beautiful to him.
In total, I have lost 75 pounds since June 2011.  I have gained about 5-10 back over the past year in lean mass and muscle.  My body fat has dropped about 5% since summer of 2012 and most importantly, I have been able to go from eating 1400-1700 cals and "maintaining" the summer of 2012, to eating 2600-3000 and maintaining today.
Success looks different for different people. This is my success.  I will not be "more successful" once I lose more fat, or have more developed muscles, I am not just a work in progress.  My biggest success lies within and cannot be seen with your eyes, but can be found in my passion, confidence and dedication.
Have an EM2WL transformation to share? Willing to let us tag along on your journey? We'd love to see it! Be featured on our Transformation/Journey page by submitting your story to Success@EM2WL.com