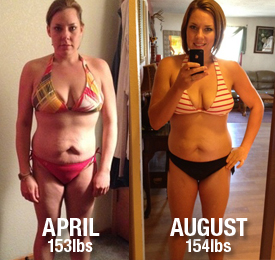 I started 15 months ago.  I weighed 227 pounds and was utterly ashamed of what I had let myself come to.  I knew I had to do something, and that something had to start with letting go of my excuses.  I was like this because of my family, it's in my genes.  I'm not "that fat."  I have never been thin, so I never will.
Well, I let them go.  Over the next 6 months, I started biking and controlling my eating habits.   I learned to cook my meals at home and pack a lunch for work, no more fast food everyday for me!  I got a gym membership and started working out about 3 days a week.
By January of this year, I had lost about 60 pounds.  I wanted more though.  Not just "weight loss" but something I'd never had.  I wanted to be fit.  To be athletic.  I registered for a sprint triathlon!  It was July 28th, 2012 so I had 7 months to get ready.  During those 7 months, I started researching metabolism and eating properly to fuel my mind and body.  I didn't have the energy I needed for those workouts!  I started eating more and more, until June, one month before the triathlon, I was at 2000 a day.  During the training time, I had been quite discouraged about the stall in weight loss.  But I kept pushing on.  I knew I was doing my body good.  I was increasing my running speeds regularly, increasing my weights during strength training and I could go longer and longer during my cardio workouts all the time.  But the number on the scale wouldn't budge, nor were my measurements.  I took some pictures toward the beginning of my training and I hated them.  I may have lost weight, but I didn't look good.  I decided to take some more in August, not expecting much…  Boy was I shocked!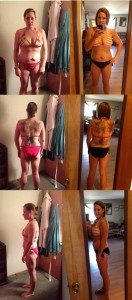 My measurements and scale weight may have stayed the same, but I was toned, more muscular, I looked happy and my tummy was flatter!!!
I completed my first triathlon on 7/28/12.  It was hard, but I finished smack in the middle of the pack.  I bawled after I crossed the finish line.  I had become that athlete.  I had overcome my excuses.  Not only had I finished the triathlon, I also had completed 3 other running races, placing in my age group in two of them.
Now, the number on the scale is just that.  A number.  I'm healthy, I'm happy, I'm an athlete.  I will spend the rest of my life making this my lifestyle.  I will get stronger, leaner, fitter, healthier with time. I will teach my children to eat healthy, be active and enjoy life.
The scale is just one way to measure progress.  But it can't measure the milestones that make this journey worth while.
Have an EM2WL transformation to share?  Willing to let us tag along on your journey? We'd love to see it!  Be featured on our Transformation/Journey page by submitting your story to Success@EM2WL.com