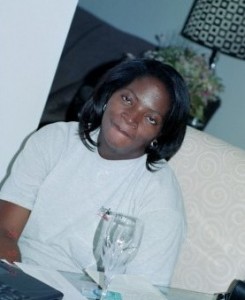 Where do I start…hhhmmm, well, throughout my childhood I was always of average weight.  When I graduated high school I wore a size 6.  My first encounter with being overweight came during my first year of college.  I gained the typical 15 or 20 pounds, so following graduation I joined a gym with  my boyfriend at the time.  I immediately fell in love with the choreography of step aerobics and attended classes regularly.  Occasionally I would walk the track around the gym, glancing at the intimidating machines and free weights section.  While I would never go into the 'man' section (aka free weights), I did try out the nautilus machines.  Of course, I didn't have a clue as to their proper usage or set up so I quickly lost interest and stuck with my cardio.
Some years later I reconnected with an old high school flame whom I would eventually marry.  By that time I managed to work my way into a size 12.  It was at this time that I tried losing weight using a fad diet.   These diets either restricted calories or carb intake or some combination of the two.  They worked, but only as long I stayed on them, which was never for very long.  This was also the start of a long battle with binge eating.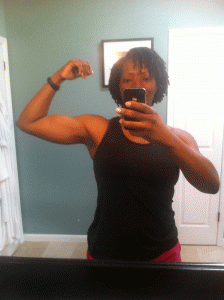 Fast forward 5 years to the birth of my first child.  My weight ballooned and I was up to a size 14.  I was miserable.  Never in my life had I worn that size and I didn't know how I was going to change it.  With a newborn to take care of, I didn't think I should be running off to the gym (note: I did wise up after baby #2).  So, I stuck with my size 14s and occasionally found a size 12 that fit…score!!  As my daughter grew older I wanted to get back into my first love so I bought a step for home which came with a DVD…Cathe Friedrich All Step.  I was in heaven…the workout was just as intense as my live gym classes.  I started watching Cathe on Fittv and ordered more DVDs including weight training DVDs.  Slowly the weight started to come off.  During this time I still tried different diets, but the restrictions always left me on a food rampage undoing any progress that was made.
Fast forward another 8 years, which included the birth of another child, I have made fitness and maintaining a healthy lifestyle a primary pursuit in my life, so much so that I get up as early as 4:00AM to get my training in.  Over the years I've made lots of fitness-minded friends who have similar goals to mine and have learned greatly from them.  This past year I was lucky enough to become friends with a well known rambler, Kiki, who introduced me to eating more to weigh less as well as implementing bulking and cutting cycles in my training.  Both concepts were new to me and quite frankly a little daunting at first, but I jumped in with both feet and have been amazed.  After successfully going through my first bulk/cut cycle I am still wearing my size 8 pants and although the scale is a few pounds more than before, I'm not concerned because I know some of that weight is due to the additional muscle I am carrying.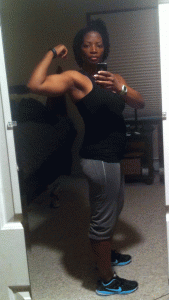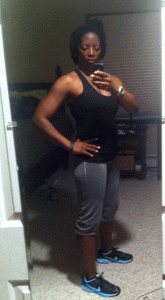 For me there is no turning back.  I've done the research and what I have found supports what EM2WL is all about.  Never again will I subject myself to eating 1200 calories.  I know I can lose weight on a calorie-restricted diet, but it will cost me some of hard earned muscle I've built and that's not an option.  I'm looking forward to my next bulk/cut cycle kicking off this fall and I am spreading the word to family and friends about eating more to weigh less.
Have an EM2WL transformation to share?  Willing to let us tag along on your journey? We'd love to see it!  Be featured on our Transformation/Journey page by submitting your story to Success@EM2WL.com