After working with a personal trainer for 2 years and competing in her first competition, Stephanie realized that under-eating and doing excessive cardio may not have been the best advice.  Now she has put competing on hold to focus on building healthy habits.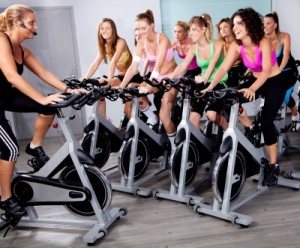 Five years ago I was going through many things in my life that most of my closest friends and family weren't even aware of. I was depressed and had blown up to 220 pounds.  I hated exercise and loved food (still love food). I was embarrassed to even leave my house in fear I would run into someone I knew.  A friend asked me to start walking with her. "Ugh!! Really??"..was likely my response. She continued to nag me until I finally gave in. We started walking the track a few times a week. Just a mile. Felt pretty good though. I decided that I hated the way I looked and felt and I was the only person that could fix it.  So I started watching my portions and started exercising at home for 20 minutes 6 times a week.  Then my friend asked me to do a bootcamp with her. "Ugh!!!!"  Yep, again. After assuring me it was suitable for all fitness levels (it wasn't….at all) I again gave in and went.  Longest, hardest and most miserable 60 minutes of my life.  But I did it and continued to do it for several weeks a few nights a week until the camp was over. After losing 30 pounds on my own, I was introduced to a personal trainer.  I asked his price and hired him on the spot.  This was a huge turning point.  I trained 3 times a week and took spin 3 times a week.  My trainer mentioned the possibility of me competing in fitness competitions.  It sounded very intriguing and what a goal!!!!  I trained with my trainer 3 times a week for 2 years.  In that time I did compete in my first fitness competition.  It was probably the most rewarding thing I've ever done…and the most physically, mentally and emotionally wrecking.
After two years I felt I was outgrowing my trainer and wanted to go in a different direction.  I felt the next natural step for me was to become certified to train (I was already a certified spin instructor by this time).  I became certified and continued to compete…learning from my mistakes and really bad advice all along the way.  Under-eating and over-doing cardio.  This year I really changed my approach and decided to skip competing this season.  I was developing healthier habits and was afraid my habits were so new that if I competed I would resort back to old ways. Will I compete again?  Yes. Hopefully with a much more wise approach. Until then I will continue to search for my happy place while motivating and training others while helping them avoid the pitfalls I suffered.  Exercise is the easy part…food…that's tough.  I have to remember to give myself credit (and a break) for how far I have come…even though I still have so far to go to become balanced.
Has eating more changed your life? Have an EM2WL transformation to share? We'd love to see it! Be featured on our Transformation/Journey page by submitting your story to Success@EM2WL.com
            Spin photo credit: Photostock