When it comes to all of the reasons why your weight rises in any given circumstance, the one reason women overlook the most is Stress.  I know we have all muttered it before, "Yeah, I know I'm stressed out, but I'll just keep doing what I am doing" or "I know I'm stressed, but I'm not that stressed"
If you are under Stress, the scale will not co-operate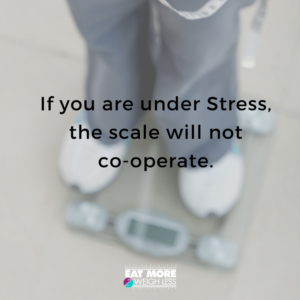 We have talked before about how the scale is not a good indicator of success in your journey, but when you add stress in the mix, it can be downright cruel. When the body is under stress a number of things begin to happen. First, cortisol levels shoot up. When this shoots up, water retention levels also shoot up, causing the scale to say things we don't want to hear. If your cortisol levels stay high for prolonged periods of time, the gain on the scale becomes a permanent one.
Stress weight is the hardest weight to lose. A cycle takes place when we are under stress and most women don't realize that the very things we are doing to lessen stress, is what is actually causing more stress. We become stressed at home – then we decide to hit the gym and kill it – then we decide to tighten up on our diet, or pick at what needs to change in our diet – then we stop sleeping well – and so on..
Each of these things are a stress to the body. Even though we think of "going to the gym" as a de-stressor, it is still adding stress to your body overall. Stress in women tends to show up in the belly area, thus the "Stress Belly." So when we see that our belly area is growing, it is a good sign that we need to look at the stressors in our life and find a way to relax and slow down again.
In times where we cannot control personal stresses, like a job, move, or divorce or something, we need to be able to stop other stresses from piling on.
Things to consider to reduce stress
Eat at TDEE and take a maintenance break
Reducing your time on the steady state cardio machines
Staying away from HIIT workouts
Participate in a pilates or yoga class
Leisure walks
Rest week from the weights
Being aware of how stress affects our body and knowing how to deal with it properly will certainly set you up for future success. Sometimes we cannot control stress, but when we can, we need to limit our exposure to it and be prepared to scale back on other things until the stress period has passed.