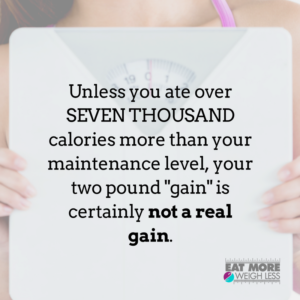 For so many years we have been told that scale weight means "health" and your measure of success should come from the BMI chart. Over the past number of years it has been confirmed that the BMI chart is 100% outdated and should not be used to measure your health. But for millions of women, the draw of the scale is still very much ingrained in our lives and our self worth depends on that piece of machinery. So if you have chosen not to listen and ditch the scale, then here is a list of all the possible reasons why the scale goes up or down so you can understand what the scale is saying.
POSSIBLE CAUSES OF A JUMPY SCALE:
Time of day/week/month – Your weight will be lower in the morning than in the evening, higher during certain times of the month, and can be all over the place depending on your stress levels at any given time.
Type of workout done before weigh-in – Cardio workouts will show a loss because of lost water due to sweating. During a HIIT or weight training workout, the scale may be up because of water retention. Don't let that fool you though, muscle building is what you want to do, so you need to get over the extra scale weight because of the retention that happens!
Sweating – In general when your body sweats, its losing water which will show a loss on the scale. But it's water you are losing, not fat! This needs to be replenished otherwise the body then retains water and will cause a scale gain.
Clothes – It's no secret that millions of women chose to weigh in wearing absolutely nothing! Clothing will add up on the scale. Jeans typically weigh about 3 pounds!
Amount of carbs eaten before – Eating carbs is certainly not a bad thing, but the glycogen retention they cause can show on the scale. If you eat a huge spaghetti dinner the night before, the scale may not show something you like.
Excess sodium – Too many processed, packaged foods can contain an overabundance of sodium. This causes water retention. In order to release the water, you must drink more water!
Foods that take a lot of time to digest – Eating that big Thanksgiving meal and then getting on the scale later? Food in your body counts towards your scale weight! Weight is weight, so eating 5lbs of turkey dinner will certainly show a 5lb gain right after consuming.
Sleeping – The amount of sleep you get will factor into that scale number. When you are asleep, every time you breathe you are losing water. And from the above we know that losing water means losing "weight." During sleep, you typically lose 1-2% of your body weight just from breathing. Sleeping in? You might see a slightly lower number than usual.
Stress levels – Stress drives up cortisol, which increases your water weight.
Our weight will constantly fluctuate during the day. Knowing the reasons why the scale goes up can show you why it is not a good measure of success. It's important to understand that unless you ate over SEVEN THOUSAND calories more than your maintenance level, your two pound "gain" is certainly not a real gain :)