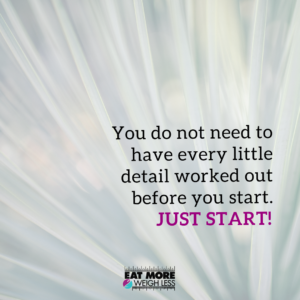 Although it's common at the start of our journey, overcomplicating the process can stop us from progressing at all.
Overcomplicating the Basics
Overcomplicating is a procrastination tool for many of us – a way to avoid doing what we know we should be doing.  Although society seems to place entirely too much value on more complicated tools, systems, and tactics for reaching goals, we tend to miss the obvious downside to having such values…
If the process is too confusing, we risk giving up before even starting. We spin our wheels, knowing what needs to be done, but refusing to actually start until we have "all the steps." The ability to call yourself out when overcomplicating is crucial. In most cases, it's not a matter of doing everything we need to, it is a matter of doing the first thing we need to do… starting now.
Instead of trying to envision exactly how everything will look when you can execute each step perfectly, put whatever step you CAN do, into action – now. 
For instance, many dieters will refuse to begin a workout routine because they have no gym membership. Or they will say a focus on protein is impossible because of their budget. Or that they need to research and read every little detail before knowing what to do.
Stop.
Or rather…START!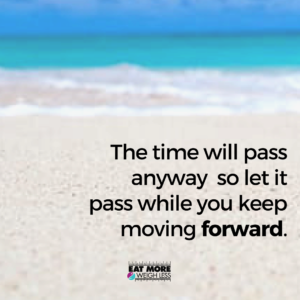 Right now. With the information you have. The ability to just BEGIN lies with you. Work with what you have right now, rather than spend another month worrying about every possible piece of the puzzle that you can't control in this moment. You do not need a gym membership to be active. An extra $100 in your grocery budget to eat more protein is not mandatory. You do not need to read every last article on building muscle. Do not allow analysis paralysis to cripple you from moving forward. Walk in the direction you want to go in, with the info you have in this moment.
Allow the inevitable blindspots to reveal themselves along the way, not in advance. 
Call yourself out when you let too many thoughts take over.
Stop overcomplicating things that don't need to be complicated.
Concentrate on mastering the basics and being consistent in them. Work on getting your calories up, getting your protein up  and moving your body more. Any progress forward in these areas are a projection forward. Increasing protein by just 15 grams a day is progress. Using bodyweight exercises, exercise videos, or get a set of dumbbells/barbells to workout at home until you can get that gym membership.  Look for the little things you can add to help propel you forward. The time will pass anyway – so let it pass while you keep moving forward, making each day a success in it's own right.
Allow yourself to be open to new ideas and new ways of thinking. You do not need to have every little detail worked out before you start. Just Start!
SaveSaveSaveSave