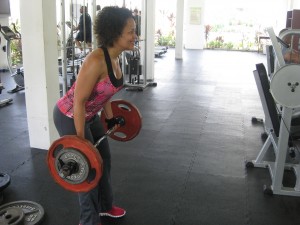 A common thread that I find as I engage on different fitness/diet forums, and even conversations with friends and family, is randomness.  One particular area of confusion seems to be with fat loss and training goals.  I often have women (and a few men!) tell me that because they are in a fat loss phase they don't need to lift weights, or at least not heavy ones.  For some reason there has been a general consensus over the years, that the only way to "cut" is to ditch the heavy weight and move to strictly circuit routines and 3lb Barbie weights, while OD'ing on cardio.  While the addition of a little cardio can certainly assist in fat burning, I think that somewhere along the line confusion has set in as to methods on how to cut (aka shed fat).
When cutting, you won't purposely be lifting lighter (I hope!), though, you may lighten the weights (slightly) on occasion to accommodate for moving faster in certain workouts, when applicable.  It is harder to lift heavy during circuit work (if you choose to incorporate such workouts), but that does not mean you drop the 30# and head for the 3#.  Because cutting is all about the eats, a person who is in a caloric deficit for any length of time may begin to lose strength, thus having to lower the poundage.  This is, again, only as low as necessary to complete the amount of reps, yet still hitting failure toward the end of the set.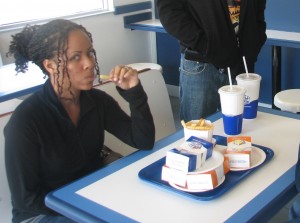 Many men (and some women!) even take it a step further and NEVER want to cut,  feeling it will undo all of their muscle building efforts.  They've heard that muscle loss comes with cutting territory, and they fear it almost as much as the ladies fear the fat gain that comes with bulking.   While this is true, it is the same that I addressed in the post on fat gain when bulking, these "side effects" are minimal when done correctly, and neither will "undo" the other unless we go too "extreme" in either phase (meaning grossly over eat in bulk w/minimal activity or grossly under eat in cut w/too much activity).  If we are careful not to hit extremes, there are only a few tweaks here and there needed that will allow us to receive benefits from both phases.
It's the extreme combo of cardio/deficit eating that will possibly cause muscle catabolization. Muscle is extremely hard to build on women, so we have to take extra care when doing the things that oppose muscle growth (i.e. eating in a deficit, doing excess cardio). It's basically the equivalent to eating cheesecake and a diet coke, or a salad w/a milkshake (or any of the other quirky things that we do where one thing we're doing is cancelling out the other)… So when you're in a mode like that, getting lean while sparing as much muscle as possible, is the goal.
OK, enough rambling…back to the training goals…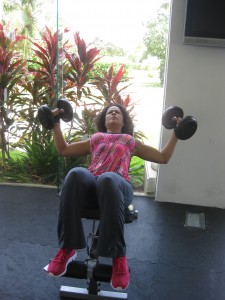 As I began to truly focus on my goals, my bulks got progressively longer each year, because I was realizing that my body was willing to let go of more muscle than I wanted/had (I realized that I didn't have nearly as much as I assumed, but that's another ramble).  So my training goal became to build as much muscle as possible, so that when I added in the cardio/deficit,  I wouldn't lose as much.   But I also chose to keep lifting the same, regardless of the mode (not exactly the same, but more on that later).  So assuming that one had a similar goal, doing that, plus eating properly (and getting enough protein) will aid in keeping the muscle you've built, until you head into your next muscle build mode.
Your changes should come from your eats whenever possible, cardio comes second. Remember this:
Building muscle requires eating at a *slight* surplus, lifting heavy, and going easy on the cardio
Losing fat requires eating at a *slight* deficit, lifting heavy, and burning more calories than you're taking in
Maintenance requires "maintenance" calorie eating (obviously), lifting heavy, and enough cardio to stay healthy/maintain your current physique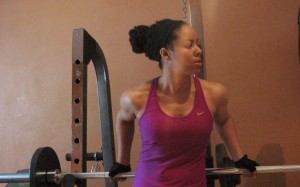 As you can see, the only factor they have in common is the lifting.  Everything else is total opposite, that's why we need to choose which one is the most important, and go with that. Once we switch to another phase, we have to keep in mind to not look for the effects/benefits of a phase that we are not in. So, when building muscle, it's inevitable that you will gain even *slight* amounts of fat along w/it since you're eating in surplus…when burning fat, it's inevitable that you could lose *slight* amounts of muscle since you're eating in a deficit- they're just two opposite ends of the spectrum- but *slight* does not mean all.
Think of it as getting your hair trimmed, you trim some, so that it will grow longer, and healthier. You're not cutting it all off, just enough to keep it healthy. So if you wanted to grow your hair out, you'd let it grow a lot, trim a little, & repeat, until it was at the desired length, right? So the best thing is to use each phase to our advantage, get in, and get out (unless it's a phase that we choosing to linger in for whatever reason – like maintenance…)
So pick your fitness cycle, as if you're heading to the salon. What are you going for? Are you headed for growth (just need a little trim, just enough to get the splits)? Are you looking for a shock, whatever the cost (new color, chop it all off)? Or are you just getting regular maintenance / upkeep (good deep condition, color touch up, wash & style)?