Journey update from this post. 
Well I've been eating more to weigh less for a year and three months now. It has been a wonderful, wonderful… Did I say wonderful, experience?! Eat More 2 Weigh Less has changed my life! I eat 2189+ cals a day… Yes I said a day. I exercise way less strength train, weight train and do a little cardio.
I had my doubts in the beginning but I stuck with it.  I stayed dedicated and true to myself and ate more.  Who doesn't want to eat more and weigh less!?!
This is a hard journey as it is to have to worry about a diet, but EM2WL has made it a easier process.  There is no diet to worry about (losing then gaining it all back plus some). When I first started this journey I didn't know anything about losing weight so I asked my doctor for help.  He handed me a 1200 calorie diet, that's what I stuck to for about 7 months.
I didn't like it – limiting my food, feeling dizzy cause I didn't eat enough, and I had less energy than I do now.  I was told to work out a lot, so I did — and yes I lost weight, but I still wasn't happy.  I didn't want to feel the way I felt just to lose weight.  Then Lucia and Kiki shined their light on me and changed my life forever. I can't thank them enough! I am more than happy now and I look forward to continuing my journey!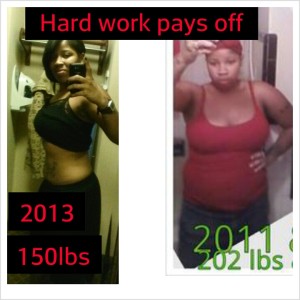 Share your success, no matter how large or small.  You never know who you may inspire to hang on just a bit longer.  We love featuring results and journey stories in REAL time, not just before/afters.  If you have a victory (scale or not) let us know and allow us to share with the fam, by submitting to success@EM2WL.com