See the beginning of Kelsey's journey here, and the update on her progress and journey towards Self Acceptance below: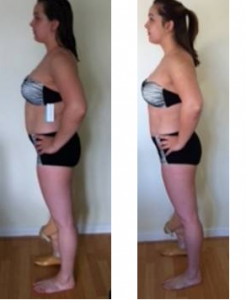 ***UPDATE – 22 SEPTEMBER 2012***
Weight = 144.6 lbs (+2 lbs)
Leg = 22.5 inches (-0.5 inches)
Waist = 30 inches (-1 inch)
Hips = 34.5 inches (-1.5 inches)
Chest = 33.5 inches (-1.5 inches)
Arm = 13 inches (+1 inch)
So I have now been doing EM2WL for 4 months and one day I hope to never count calories or worry about the scale again. I am slowly getting there but this journey is for the long haul so I'm going to be patient and as long as I see some results in any form I know this is the right path for me. Just joining EM2WL for the past 4 months has made me realise how much love I have for the body that God gave me.
I want to treat it with respect and compassion like I would my friends and family. I want to pamper it and make it feel good by giving it healthy food and exercise daily. I also want to treat my body to pleasure whether that be food, new clothes, intimacy or anything else pleasurable. I am no longer beating my body up for what she has not got…I am concentrating on what she has got and learning to make the most of that and be the BEST ME I can be.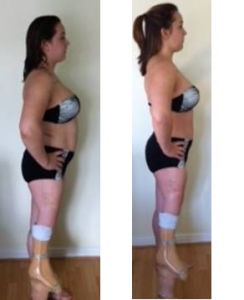 As you can see from the pictures above in just two months there is a great difference in my body shape. I am trying to work on my tone rather than my weight and keep taking pictures to gage my progress.
I am so glad I took photos because I can really SEE the difference!
I will update again in 2 months time with pictures and more measurements
Have an EM2WL transformation to share?  Willing to let us tag along on your journey? We'd love to see it!  Be featured on our Transformation/Journey page by submitting your story to Success@EM2WL.com