We at EM2WL hope you are enjoying your summer!
We're so excited about our July Challenge: Freedom. Making lifestyle changes can be hard sometimes! Its important to remember that you make your own rules and are free to personalize a plan that works for you. A healthy lifestyle can be tremendously freeing as you own your choices, learn from your mistakes, and keep pushing forward to achieve your goals. We have a number of unique challenges for you in the following areas:
Freedom to Relax – Taking time to rest and recover is an important part of your roadmap to success. Many of us are busy with families, careers, and the busyness of life. It's important to pause and take a moment or two to unwind and recover.
Freedom to Eat Intuitively – Tracking calories and macros can be a very important part of winning the fat loss (or muscle-building) game! However, too often, we can get sucked into the numbers game and forget that we really can trust our bodies to make good choices! These challenges will help you get in tune with listening to your body and give your mind a break from the numbers as well.
Freedom from the Gym – The summer is a great time for you to take your workouts outdoors and mix things up for a little variety. Outdoor workouts provide a chance to increase your vitamin D levels, reduce stress, and are lots of fun. These challenges will give you a bit of a break from the monotony of the gym. Enjoy them by yourself, or with friends and family!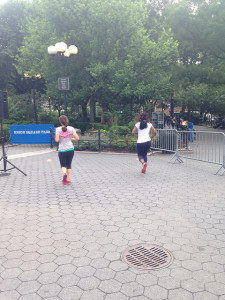 Freedom from routine – Let's face it, the same routine, day in and day out can be pretty boring and unmotivating. Changing things up a bit can be refreshing! Give yourself the freedom to take an unplanned rest day now and then. It will be okay! You're sure to find that you can come back to your normal routine with a renewed sense of energy and purpose.
Freedom from the Scale – We encourage you this month to take a break from weighing yourself. This can be a source of frustration for many, and really gives a severely limited picture of progress. In fact, in many cases, the scale can do more to hinder progress than to help it. Focus instead on the way you feel. How is your energy level? Are you killing your workouts? How are your clothes fitting? Do you feel confident and strong? Are you making positive choices in your life? Focus on these marks of success this month. We promise you, the scale will still be there next month!
Freedom to Make Healthy Choices – When you feel your very best, you are more likely to reward yourself with healthy choices. Instead of viewing lifestyle changes as a punishment, look at them as they really are-a way for you to look and feel your absolute best. You are absolutely worth fueling yourself with wholesome, delicious food, taking time to rest, building a strong support system and rewarding yourself with activity.
Freedom to Indulge – Planning for small indulgences along the way will help to keep you motivated and on track. Whether its a piece of decadent chocolate or a shopping date with your girlfriends, there are lots of ways to treat yourself for all the hard work you put in.
We love hearing about how you are personalizing these challenges for yourself! Use the hashtag #em2wlfreedom on instagram, facebook, or twitter and let us know how you are doing on this challenge!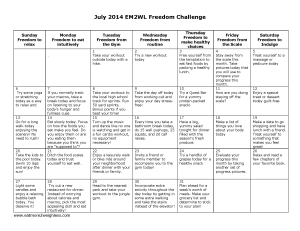 Photo credit: Sira Anamwong/freedigitalphotos.net

Becca is a busy wife and homeschooling mother to five children ages 5 to 13. About three years ago, she embarked on a journey to health and fitness that resulted in the loss of approximately 100 pounds. Today, she is a competitive powerlifter and strongwoman who loves ice cream and deadlifts.  As an ISSA certified personal trainer, she is passionate about helping women to get started on a lifestyle of strength and fitness.